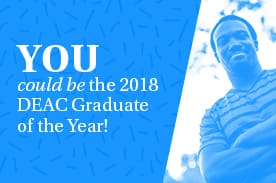 For 35 years, the DEAC, one of the accrediting bodies that ensures the quality of distance and online education, has awarded exceptional students from institutions that it accredits with the DEAC Outstanding Graduate of the Year award. The 2018 application is officially open and that means this year, that outstanding graduate could be you! We're overwhelmed with pride at everything our graduates accomplish and we hope you're proud of yourselves, too! But often, pride in the good work we do is kept quiet because being humble is best and being prideful, without feeling like you're bragging, is tough work.
Like writing an excellent resume or building out your LinkedIn profile, telling someone why you think you deserve to win an award can be a bit of a daunting task. Most of us hate having talk about ourselves, even about the amazing things we've accomplished. It just seems... conceited, right? But being overly humble can hold you back and none of us want that to happen. Here's some advice; when you sit down to write about yourself, try thinking about how your mother might talk about you. Our mothers, peers, friends, or colleagues have a way of seeing the best in us and there's nothing wrong with crowdsourcing some talking points! Asking or even just putting yourself in their shoes can help you to see yourself in a different light, making writing about yourself just a touch easier.
We know our Penn Foster graduates have accomplished some ground breaking, admirable feats after finishing their education with us; you're more than likely one of them! So, take a chance and a step back and think about what successes you've had since graduating. Take a chance and tell us a bit about your success story for a chance to have your achievements recognized.
For this nationally recognized honor, the DEAC is looking for a recent graduate (in the last two years) who has excelled in one or all of these areas because of their studies:
Job promotions
Contributions to your field
Volunteerism or community service
If this sounds like you, submit your application by March 7th! Then, keep your eye on the Community, the Student Life Blog, and our social media pages for the chance to vote on a finalist. We'll announce the winner on March 23rd!
If you're not sure what to write, or want to know more about some of the past Outstanding Graduates of the Year, check out some info on Omar Haughton, the 2017 winner here!
We wish you the best of luck and can't wait to see your submissions!