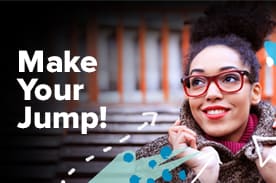 "What do you want to be when you grow up," adults ask anyone under the age of 18. And whatever your answer, you'll either get a "good for you" nod of approval or a heavy shake of the head, signalling that they think you're foolishly dreaming. Either way, we're often discouraged from pursuing our dreams and settle for something practical. I used to envy people who seemed to know what their purpose in life was, who seemed to have stumbled into the career of their dreams. But I've learned that following your passion is never easy and most of those people I previously envied fought for years to get where they are. So what do you have to do to make the jump from a job you're not happy with to the career and industry you're passionate about?
Mike Lewis, author and public speaker, asked himself the same question when he was twenty-four years old. He was working in a prestigious corporate job, but really wanted to pursue his dream of playing professional squash. Like all of us, he wasn't sure where to start, or even if he could make his dreams reality. So, wanting to have a plan and get some solid advice, Mike asked others who jumped about how and why they did it. Interested in sharing what he learned with others, Mike's new book "When to Jump: If the Job You Have Isn't the Life You Want" covers the jump stories that made an impact on him and gives the reader some important takeaways.
Jumping into a new career, a new school, a new life isn't easy. It takes a lot of courage, solid advice, and a willingness to fight for what you want. If you're not sure how to start your journey, or even if you should, join Mike and a panel of Penn Foster students and graduates in a no-cost webinar on January 16th. The webinar, from 1:00-2:00 PM EST, will cover how each of them made their jump and why they decided to dive into the unknown for a chance to follow their passion!
Register here to get inspired and make your first small jump toward the life you want!