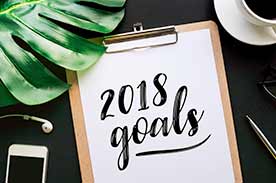 The first few days of a new year seem like the perfect opportunity to make plans for the next 364 days. Everyone resolves to change something, do something, achieve something new. We jump into the new year with excitement, looking forward to the endless possibilities... and then fall flat a few weeks later when we've broken our resolutions to lose weight, be more organized, or whatever little thing we've waited a whole year to fix about ourselves. But, what if, instead of stressing about being a new you in the new year, you take a minute to remember that the old you is still hustling hard? New year, same me, out there working towards a better degree.
You've got long term goals.
New resolutions can be easily broken without a change to who you are or your circumstances. Though the beginning of a new year seems like a great time to start something new, be weary of glittery traps that can divert you from your path. Instead of concentrating on new goals, think about what you're working on right now and what you can achieve in 2018. Most worthwhile goals, like graduating or finding your dream job, will take more than a year. Don't lose your focus. You've got this.
You're pursuing your dream.
Whether you're just starting an entry-level position in your field of interest or you're finishing up assignments and schoolwork to get you there, you're actively pursuing your goals. It may be a shiny, brand new year, but you've got the same endgame in mind: doing what you want with your life. Your determination to finish what you started will get you there.
You're just as ambitious on January 1st as you are on December 31st.
Being the same you in a new year can be awesome! You're just as determined, ambitious, and goal-oriented as you were last year. You're making moves at school, at work, in your life. Make this the year of your glow-up and channel your energy back into following your dreams.
At Penn Foster, we're going into 2018 with the "New Year, Same Me" philosophy. In the past 125+ years, each year has brought new programs, new technology, and new ways to help students reach their goals. Our 2018 mission remains the same: to help students and partners reach their goals through career skills and training. So cheers to owning who YOU are in 2018. Let's jump into this new year together with the same hustle, grit, and determination that made 2017 awesome — and kick it into overdrive.