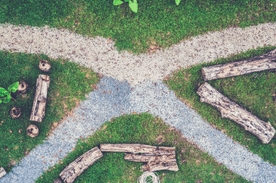 Life is about making decisions. Some decisions can feel world-ending at the time, but what we don't realize is that some decisions bring us closer to complete happiness than we ever could have imagined. They may seem life-ending at the time, but once the rain ends, the path forward becomes a little clearer.
When I was a kid, I did what all the other kids seemed to be doing: I played pretend for what I assumed was my future purpose in life. Some kids shout things like, "I'M KING OF THE WORLD!" while pretending to be the best mountaineer ever known. Other kids play house all day, every day. I'm sure adults around them questioned if those kids knew that getting a job to pay for the endless meals they cooked was the realistic part of the game. Still, another variety of imagination was the budding entrepreneurs of our time; they opened lemonade stands and held pretend garage sales. I had other plans: I was going to be a veterinarian.
Growing up, it seemed like our family dog was always in a crisis in my mind. Murphy, our extremely patient yellow lab, allowed me to perform hours of exams on every inch of his body. It seemed like at least once a week I was treating an ear problem or examining a suspicious looking tooth with my assistants - a stuffed yellow lab, and a stuffed raccoon. Murphy allowed me to listen to his heart by leaning my ear against his belly while he dozed on my bed. He was the best first patient in the world. Looking back, my imaginary exams were setting me up for my passion in life.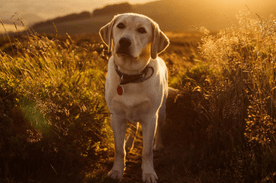 When I was 10 years old, my family moved and we got a new puppy. He was a rambunctious Chesapeake Bay Retriever puppy named Koda. He was far too busy to tolerate my exams but he opened up a door to a new kind of fascination: vaccinations and preventative care. On the day of his first appointment at eight weeks old, I raced into the clinic but was too small to see over the desk. I could only stand there touching the decorative wood paneling on the front while my parents checked Koda into his appointment. I stole quick glances at the desk waiting for our name to be called, just like the names of the dogs who went before us. I must have encouraged Koda to get on the scale in the lobby 100 times before we were called! Koda fed off my excitement and entered the room tail wagging with a big, dopey grin on his face. I needed to know everything about the syringe, the liquid inside, even the treats they used as a distraction for Koda. My pursuit of knowledge about all things medical was never-ending and energetic. I was on a life quest.
By this point in my life, when people asked me what I wanted to be when I grew up, my answer was quick and confident: a veterinarian, obviously. "Why did they keep asking," I remember thinking. It's as if they were giving me a chance to change my mind from the only job I had ever wanted to do. Were there even other jobs out there? To me, only lame people didn't want to be veterinarians.
My passion for becoming a veterinarian was further ingrained in me when I was 13 years old. We had bought some horses about six months prior to this moment and they needed to get their teeth floated. I had no idea what that meant but I was not going to be left behind. When my Dad announced their appointments that morning and walked out to back the truck up to the trailer, I was practically hovering above my seat with excitement. I still to this day don't think I have ever eaten breakfast that fast. I can still remember the feel of excitement when they opened the door to let me walk my Dad's mare, Chi-Chi, into the barn. I remember looking around in shock at how indifferent the veterinarian and her technician were. How could they act like this was a normal experience when this was the greatest moment of my young life? I needed to see what they were doing. I remember the sound of the rasp on her molars as they steadily filed away the sharp points. The sedatives they gave our mare put a drowsy look in her eyes and I saw my reflection in them as the doctor switched tools. I looked like the happiest girl in the world. My excitement showing as I grinned from ear to ear, I slept well that night, the day's excitement forcing me to collapse in happy slumber on my bed.
When I was almost 17 years old, my passion for the veterinary world was again brought to center stage. By this time, we had several horses and had moved them to a more central area of our hometown, at a local boarding facility. My Dad worked extremely early in the morning and wasn't always up to the extra task of feeding the horses their grain. I had recently been granted the freedom of my very own driver's license and jumped at the chance to drive whenever possible, so I didn't mind helping out.
That morning was different than any other. When I arrived at the barn, our two geldings immediately wanted to know when breakfast would be served. The mare I mentioned earlier, Chi-Chi, was nowhere in sight. She basically lived for feeding times. I knew something was wrong and immediately started my frantic search into the back pasture to find her. The blood rushing through my head as the thoughts of the worst case scenarios flooded my thoughts. I finally found her standing as far from the barn as she could have gotten. Her head was down and she was coughing and gagging as if unable to catch her breath. Foamy saliva dripped from between her lips and at her feet was a pile of raw, unsoaked beet pulp. The only thing you really need to know about beet pulp is that it MUST be soaked in water before feeding or it expands. She had consumed it unsoaked and it had expanded in her throat. I dialed my Dad's phone number multiple times on my cell phone to no answer.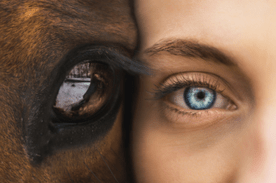 I knew I had to act quickly to save my Dad's mare. I was faced then with the daunting task of backing our old Chevrolet up to our four horse stock trailer. I had been with my Dad hundreds of times and watched him do it so I understood the process but had never done it myself. The truck under my feet felt so powerful as I slowly backed it up. The first try: I heard the scrape of metal on metal as the truck missed it's mark and the hitch gouged into the side of the trailer. The second try: I felt the familiar rock of the truck as I hit home. As quickly as I could, I connected the trailer to the hitch, haltered Chi-Chi and loaded her into the trailer. By this time, I knew there wasn't a second to waste.
Driving down the highway to our family vet, I was hyper aware of every movement she made in the trailer. Again, the worst case scenarios ran through my head. What if I arrived and it was already too late? Why hadn't my Dad called me back yet? What if her drool made the floor slippery and she fell in her weakened state?
I pulled into the back gate of the clinic and rushed to the door. I explained the situation and we all got to work. I remember being fascinated by the process of using a tube and a bucket of water to repeatedly suck all the beet pulp out of her throat. I was amazed at the amount they got out. Suction, empty, repeat. In the end, our mares breathing got easier and I could tell the crisis was passing. She recovered quickly after that and wouldn't ever touch beet pulp ever again. We still to this day have no idea who put the beet pulp in the pasture and assume it to be an accident. That was my first experience with emergency vet med and I loved the feeling of knowing that the quick response of myself and the veterinary team made a difference. My Dad was extremely proud of me and told everyone that Veterinary Medicine was my future calling.
My senior year of high school was spent much like any high schoolers. It seemed every teacher or stranger I passed on the street wanted to know what my plans were for after graduation. I spent many hours in my guidance counselor's office trying to piece that puzzle together. I knew the end goal was to become a veterinarian, but how would I get there? I decided in the end to start attending the University of Montana and get my bachelor's degree. I could continue to live rent free with my folks by staying local. I started by taking a year of mostly general studies with an undeclared degree. That was going well, but I quickly realized that school lacked a support group for budding veterinarians. So, I began to set my sights on the other large school in my state: Montana State University.
About this time, I got engaged to my future husband. He was so supportive of our move to Bozeman. My dreams became his and together we set our sights on my graduation and acceptance to Vet School. After a few years of marriage, as quite a few couples do, we decided we wanted to start a family. We had an idea that having a baby to look after would not interfere with my studies and our dreams. Boy, how wrong we were. That interference started before our baby was even born.
My pregnancy was easy when compared to the horror stories you hear. In the beginning, I still attended my 8 AM-1 PM schedule of lectures and hands-on lab classes. Our plan seemed to be working up until I was about 4 months pregnant. I started to get horrible morning sickness that would come out of nowhere. One such day, I had a very public loss of my breakfast in the hallway at school in between classes and I knew that school needed to be put on hold until I figured this pregnancy thing out. I withdrew from school for that semester. We were expecting our son in October and we agreed that trying to recover from delivery and keep up with school wouldn't be the best plan of action. I decided not to attend school in the fall and we elected instead to focus on our family. October came around and we welcomed a healthy, 9 lb 3 oz baby boy into our lives. Our world was completely flipped over.
We now were trying to figure out this whole thing called parenting, so once again we placed school on the back burner. We decided it wouldn't be the best thing for us at the time to have me attending school full time. I didn't enroll for the spring semester either. By spring of 2017, I had been out of traditional brick and mortar schools for over a year and it felt like I was never going to be able to continue my education. I had been working as a veterinary assistant for almost four years by that spring and I loved my job. I had learned so much about veterinary medicine and animal care in those two years. Every chance I got, I questioned the doctors about their cases, medications, diagnosis, patients, medical conditions, even hypothetical situations. The other veterinary assistants and the registered technicians we had were not above my questioning either. I soaked up any knowledge that was given to me like a giant, human sponge. I felt that my position in the hospital mattered. Every time I helped restrain an animal, it mattered. When I flipped through the computer and found the vaccines that a patient was due for, it mattered. I glowed with pride in myself at being told I did a good job. I always strived to be my best self and bring my personal flavor of knowledge and humor to the team. But, something was missing. I wasn't happy just being a veterinary assistant.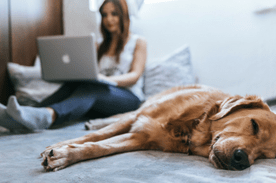 I have always been the kind of person that beats myself up for even thinking about quitting. But, the truth was, I had basically given up on becoming a veterinarian. I didn't know when I would return to school to pursue my dreams. I couldn't even wrap my mind around spending the hours it takes to achieve that doctorate by taking them from my son and husband. One of my most idolized veterinarians had once told me that a GOOD vet tech was the next best thing to the doctor themselves. An idea then started brewing in my head. I COULD be that good vet tech. If I couldn't be a doctor, why not be the person that a doctor could rely on so heavily when they needed it?
I did some research on how I could make that happen and only came up with returning to a traditional school that was in another part of the state. I made a comment one day to one of my coworkers about how that short-lived dream was probably going to burn out, too. They offered a solution. I was told about a partner program, through my own workplace, that would enable me to pursue my studies without having to attend a brick and mortar school. Penn Foster offered a completely online degree that I could do at my own pace. My workplace even supported it so much that they offered to pay for a portion of it. I was overjoyed and couldn't wait to share the news with my family. I signed up and dove into the program without hesitation. I worked on it on road trips, late night, early morning, anytime that I wasn't living my regular life. The program was so flexible that it meshed right into my life without even the smallest hiccup. I was learning so much that I then brought to my everyday life at work. My excitement was apparent to everyone around me.
Now here I sit, having completed the first half of the program. It is crazy even to think about it still. I am halfway to being a graduate of Penn Foster and able to sit for the VTNE. Earning a passing grade on that test will enable me to step up in life and be just one step below the Veterinarians themselves. The possibilities of that step are endless. I push onward every day. I just tell myself to take it one step at a time. Just read one chapter before bed. Look at a few diagrams before I leave for work in the morning. Bring my book with me on lunch just in case I get a chance to open it. I just remember the end goal. I can do this for myself. I may become a veterinarian yet. But, I will have to choose right or left on that fork when I come to it, won't I?