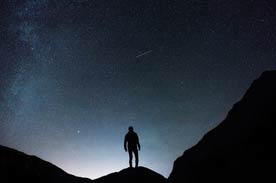 "Reach for the stars," your friends and family say. "You can do anything you want!" They're not wrong; with passion, dedication, and hard work, it's possible to work toward making your dreams a reality. It can, however, be difficult to feel that way if you've found yourself giving up your dreams and goals in the past to pursue more practical opportunities. After all, you need to work, pay bills, and take care of your family. You don't have time to focus on being your best self, right? Not exactly. It's never too late to follow your passion — you may just have to change your approach. Believing you can achieve what you want, that you can reach for the stars, isn't always easy but here are a few tips to help you change your mindset:
Plan ahead. Success doesn't just happen. You need to make it happen. Be proactive and have plan in place, a roadmap to your goal. When you know what you need to do to get where you want to go, you'll be able face the challenges and bumps ahead with confidence. Write a clear to-do list with each step you need to take toward your goal or ask a friend or family member to keep you accountable. Having a plan, whether it's a simple to-do list or a detailed, multi-page document, can help you focus on what needs to be done rather than worrying about figuring out what needs to be done.
Push through. Everyday life is packed with stressors, especially when you're trying to juggle a lot of responsibilities. It's normal to feel overwhelmed every now and then. It's normal to feel like every day is hectic and messy and that what you want to achieve is out of reach. But learning to make it all work, to push through that stress and mess, is a must if you want to be your best. If you approach every challenging situation head on, no matter what's in your way, you'll find yourself ready to tackle anything. When you run into something that makes you feel like you can't do it, instead of giving up, think of why and how you can do it! Remember another time when you didn't give up and how amazing that felt. Remember, too, that you're not alone in this! Others just like you have done this before. You can do it if you want it enough!
Keep learning. You have your plan, you've pushed passed and through the challenges that were in your way. But being the best and doing your best doesn't stop. It's a constant process of improvement and striving toward being the better than the best. Take a course to refresh your skills or learn new ones or even learn from someone at work! Having a more experienced coworker give you advice and even just friendship can make a big impact on how much you learn. Depending on the field you're in, you can also benefit from reading articles, blogs, and books that are relevant to what you do.
Do you have a dream you've pushed aside because you thought it was unreachable? There's no better time than now to change that. There are more options than ever to help you achieve your goals — all while juggling your responsibilities and dealing with the stress of everyday life. An online course can help you take the next step in your career plan, whether you want to get promoted at work or change your career completely. Even on tough days, when you may think you can't go one step further, remember: the sky is not the limit! As Harriet Tubman said, "Every great dream begins with a dreamer. Always remember, you have within you the strength, the patience, and the passion to reach for the stars to change the world."