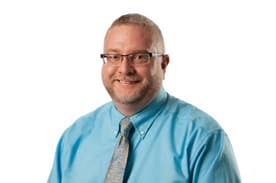 Brian wasn't always a high school principal. Like many Penn Foster students, he walked a winding path toward where he is today. His drive to change his career all began with his daughter. Before he came to Penn Foster, Brian was working a steady job as a bartender and he'd come home late, which would wake his sleeping daughter. She'd want to be picked up by her dad, who, smelling of smoke and other bar-specific fragrances, wouldn't hold her until he'd had the opportunity to wash away the evidence of his long hours at work. He realized that he needed to find a new career that would be a better fit for his growing family. Unsure of what he should pursue, he spoke with his wife who remembered that Brian had always talked about how much he wanted to be a teacher. With her encouragement, at 36 years old he enrolled into an undergraduate program at Misericordia University. He graduated with his Bachelor of Arts in History at 40 years old, an age when many of his peers were already settled into a career. After also receiving his certification to teach in Pennsylvania, Brian dove into the career that was always his passion.
Before joining the High School team at Penn Foster, Brian taught for a number of years while working to enhance his knowledge. He received, a Master's Degree in History from American Military University. His experience helps him identify with the adult learners who enroll in Penn Foster High School. "Penn Foster," Brian says, "offers a path for students who were failed by the traditional educational system. Not all students need to sit in a classroom for 120 hours to learn math. We offer the flexibility for students to move at a pace that is comfortable for them, whether it be faster or slower than a traditional school." Students, traditional and otherwise, are able to learn and find their way back to their goals in a flexible setting. They are also motivated to become self-starters, which Brian believes is something invaluable about an independent online high school diploma program.
He believes that Penn Foster students are some of the most self-motivated, independent, and inspiring people he's ever met. Though there are many students he's worked with that he will never forget, one in particular still stands out in his memory: Bradford Jones. Bradford, a high school student, would call in to speak with his instructors prepared with detailed questions in order to better understand the material he was learning. He took advantage of the resources Penn Foster offers, as well as the experience of the instructors he spoke with and, eventually, he became one of our DEAC Graduates of the Year, giving Brian a chance to meet him in person and see the impact he had on Bradford's life in person.
Brian continues to bring his joy of learning and his own experiences to the table to help the over 25,000 high school students who enroll in Penn Foster each year. His advice to students? "This is an opportunity to show the world you can do anything you want. A student who gives themselves a second chance shows they have the character and drive to improve themselves and reach for the stars. What employer or college would not want a student/person with that tenacity?"
If you think you're too old to follow your dream, or think that you can't change your career, remember Brian. Anything is possible and with the help of excellent instructors, friends, and family, you can reach your goals, and make the future you want happen.