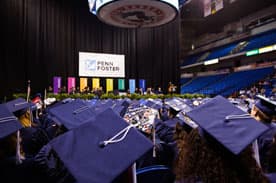 As an online learning institution, with over 120,000 students at any given time, our students connect with each other and faculty via the community and social media, rather than in person. It's rare that everyone gets together face-to-face, so each graduation is like a Penn Foster family reunion! This year, we were fortunate enough to host our biggest event yet with over 3,000 people registered at one of the biggest arenas in Pennsylvania, the Mohegan Sun Arena at Casey Plaza. On June 2, 2018 we got the music playing, faculty and family dancing, and grads walking joyfully across the stage to claim their diplomas. Here are some of the best moments from the event.
Photo time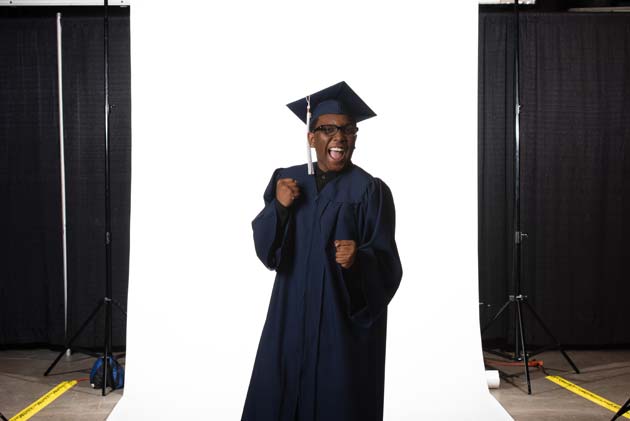 Our all-star grads had the opportunity to take some amazing headshots and photobooth pictures (props included) before the ceremony started. This was their chance to show off their creatively decorated grad caps, capture some fun photos to remember the day, and take headshots to use for professional endeavors.
Grooving to the music
An ensemble of professional musicians delighted the audience to some fun party music before the ceremony began; and as the graduates walked into the arena, our Penn Foster instructors formed a dance line on either side of the graduate procession to shake things up. Once the graduates were seated, America's Got Talent Finalist, Quintavious Johnson took to the stage with a chill-inducing performance of the Star Spangled Banner to kick things off.
Feeling inspired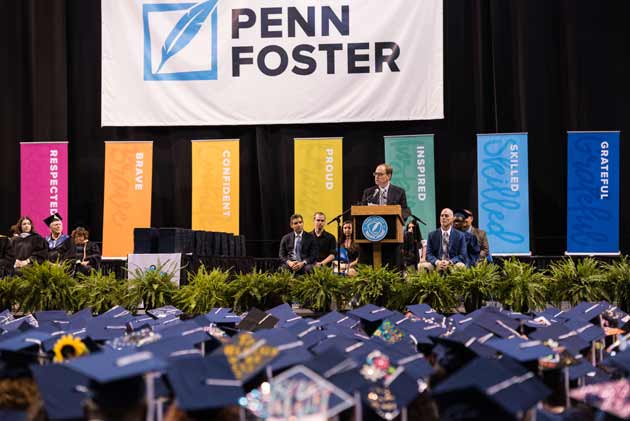 The ceremony opened with a warm welcome from Senior Vice President of Student Success, Mark Slayton, who set the stage for the proceedings in store for our grads and guests. After the national anthem sung by Quintavious, CEO Frank Britt then took the stage to share his gratitude and pride as the one of the heads of the Penn Foster family. He stated, "You decided to not be denied. You decided to take control of your own destiny. I think that in particular is what separates Penn Foster graduates from many, many other schools today."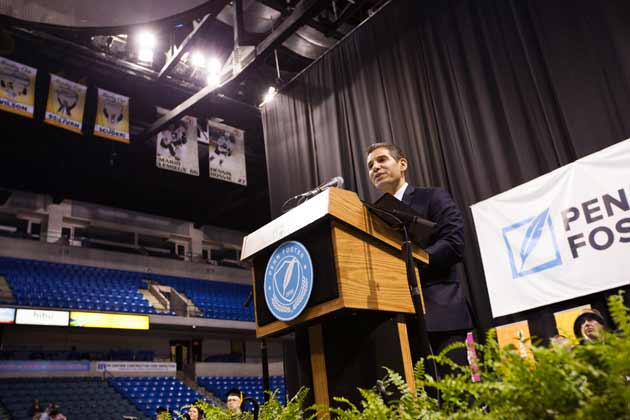 After his speech, Frank introduced our keynote speaker, YouthBuild CEO, John Valverde. Being formerly incarcerated himself, John knows first hand the adversity many of our students face and how much determination it takes to conquer obstacles and accomplish major goals. He spoke from experience, noting, "We know you've overcome a lot. You've probably overcome more than most people have ever had to face in their lifetimes and that makes you resilient. That makes you strong and courageous."
John has a strong belief in helping others and using education and knowledge to do so. He, like the Penn Foster family, uses his talents for social purpose. He advised, "Say yes as much as you can to help others and you will find purpose and meaning and be free."
Motivating the room, John reminded the audience to not feel hopeless due to circumstances, but to overcome them and surpass expectations. He said, "No one should be defined only by the worst thing that they've ever done, or the zip code they come from, or the upbringing that they've dealt with, or the circumstances in their lives, but by who they are today and who they can be in the future. You have taken hold of the future. You have accomplished something that maybe most people can't even image."
As he closed out his speech, John shared some wisdom in the form of four tips that helped him during his sixteen years in prison: develop a vision for your future, focus on discipline and habits, guard your thoughts and don't let anyone put you down, and guard your associations because we are the average of the five people we spend the most time with.
Penn Foster Vice President and Academic Dean, Lisa Rutsky then took the stage to thank the Penn Foster faculty and staff and present the DEAC Graduate of the Year award to Kevin Stankovich. Kevin completed four Penn Foster programs, Plumbing, Green Building Practices, Furniture and Cabinet Maker, and Home Inspector. Kevin, at the age of 26, now owns his own construction company and teaches at a local college. He is also working toward the Penn Foster Lifelong Learner achievement at Penn Foster.
Diploma time
Senior Vice President of Student Success, Mark Slayton and Senior Director of Client and Student Success, Chris Eboli, called the names of our graduates while Lisa Rutsky presented them with their diplomas. The graduates walked the stage with enthusiasm and pride, many stopping to give a cheer, take a selfie, or pose with their diploma! Two graduates even brought their inspiring children on stage to accept their diploma for them. As they walked, their family and friends loudly cheered them on, creating an infectiously joyful mood in the arena.
This is Penn Foster
To close out the day, high school graduate Quintavious Johnson took the stage again to give an uplifting performance of "This is Me," a song from the movie musical, The Greatest Showman. The entire audience was clapping, dancing, and singing along. Towards the end of the performance, Quintavious shared some words of unity and inspiration, preaching, "We've come to the end. We've finished! Those are college and high school graduates. I mean, look at me. I'm 16 years old, and I know you're saying, 'How he going to talk to me, he's 16 years old?' Well, I am! Look at me and this is me! Ask the world say, 'Are you ready for me! Are you ready for ME? Because this is me, I'm bursting through the barricades.' Don't let anybody tell you the sky is the limit. If they tell you the sky is the limit, tell them the devil is alive because the sky is not the limit! There's stuff beyond the sky and you're reaching for the stars. You're reaching for the stars! There's no limit! The only person who can limit you is you so you be who you want to be."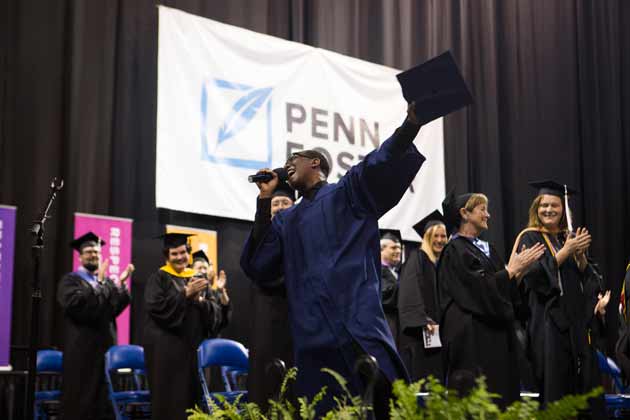 After his song, Quintavious led the graduates in the turning of the tassel. Everyone then threw their caps in celebration of their accomplishments. They did it!
Mark Slayton said his goodbyes, telling grads, "Congratulations to all of you. Now go out and conquer the world!"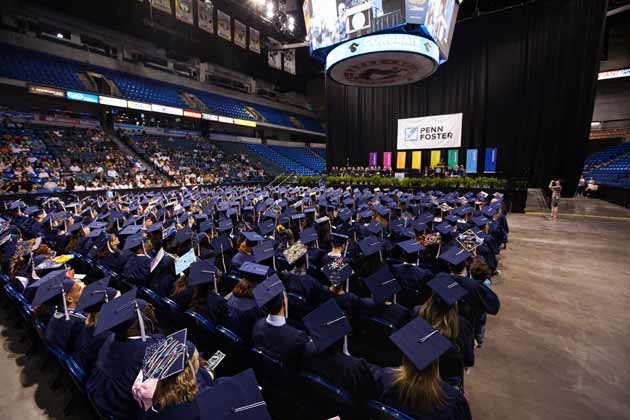 Penn Foster could not be more proud of the students who take and complete our self-paced and self-directed programs. We want to offer a huge congratulations to our graduates who attended the event in person and those who celebrated at home. If you're considering enrollment for the first time or want to start another program, remember that no matter your background, you can find a home at Penn Foster.
If you missed the graduation and watch to watch the event full, check out our Facebook Live event!