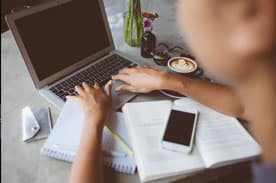 Each student at Penn Foster has an amazing, unique story and voice. We'll be sharing guest blogs from our Student Ambassadors throughout the year about their feelings on staying motivated, Penn Foster, and reaching their goals. From busy schedules, discomfort with traditional schooling, a desire to succeed, unexpected life changes, wanting to make new friends, are nervousness about the material or suffer from anxiety. Here are a few stories from our Ambassadors about why they chose to enroll and their experiences with online learning.
Many Penn Foster students have a ton of ambition and juggle multiple obligations. With busy schedules, many students don't have time to spend traveling back and forth from school, work, and family activities. Take Jessica Anderson. Jessica had big dreams, but was faced with the potential of a nearly impossible commute to achieve them. With Penn Foster, she found a way to make everything she wanted work for her schedule on her time.
"I first started working in the veterinary field in 2005. I will never forget my first job. It was a mixed animal practice and I totally fell in love. Unfortunately, I did not know about Penn Foster and the closest school was 53 miles away. I tried to make it work but eventually had to leave my dream job to work at another mixed animal practice closer to my house and school. One day, five years later, I was researching schools and came across Penn Foster! It sounded too good to be true, especially when I saw that it was an accredited program (I was under the impression the program I took in 2005 was accredited but turned out it was not at all). The fact that I could attend school, work, and take care of my little girl was amazing. In September of 2016 I enrolled. I have been beyond appreciative that I was able to take this opportunity to fulfill my dreams. Life has had its ups and downs but Penn Foster has been so supportive and helpful through it all."
Taking away long commute times, our students can learn where and how they feel most comfortable.
As Bethany Jones points out, she has more flexibility learning online which gives her a more relaxed mindset about her studies.
"I can wake up, throw my hair in a bun, fix some coffee, sit down at my desk, and start my day instantly- no hassle necessary. I don't have to worry about hauling heavy books back and forth, being late to class, waking up early, rushing assignments, cramming studying in for an exam, and so forth!"
For some, the concrete demands of traditional schooling just don't work out. For students like Jennifer Root, her lifestyle didn't work with her education and so it gave her the false sense of failing when she really had so much potential to succeed.
"In my early 20's I joined a traditional brick and mortar college like most young adults do right out of high school. However, my financial situation and other obstacles got in the way of me being able to succeed and show my full potential. I ended up having to drop out and focus on work and my family. This left me with a sinking feeling of a failure while being labeled as a college dropout. I knew I was a smart and driven individual, but my academic career didn't show this. A friend of mine mentioned she enrolled into a school named Penn Foster and went on to talk about how much she loved it. As soon as I got home I started looking into Penn Foster. I checked out the Early Education Degree courses, their tuition, and then compared it all to other schools. Penn Foster was by far the best one for me and I signed up the next day."
Sometimes, a big life change can be eye opening. Having children and watching them grow can show you that you too have the ability to learn and set a good example. Jessica Gibson found that after the birth of her daughter, she wanted to make some improvements in her own life.
"I had a "day deam", if you will, when my daughter was napping with me. She was about 9 months old and I remember thinking about when she was going to be in school, and the one thing that stood out was her 3rd grade career day. Before I had my daughter, I had been a coffee barista, as well as numerous other minimum wage customer service jobs since I was 13. I had no formal education other than a high school diploma. I started picturing a Walmart cashier, maybe a receptionist for a company etc. All fine jobs, and employed by great people, that have to be done. I truly loved my customer service jobs because I got to help people at such a personal level but I wanted to have a job that my daughter would be proud of. One that she would see me up there explaining my day to day life at work and think "That's my Mom, she has a cool job". So I had had several conversations with my husband about what I would like to do. I made the decision to go back to school, and the researching began. I knew I wanted to do something with animals, I have ALWAYS loved animals and had a deep connection with them as living beings just as much as us humans. I had stumbled upon Penn Foster. I read reviews, researched Nebraska's requirements for careers in the animal field, and was pleasantly surprised to see PF being fully accredited by the AVMA, liked what the Penn Foster site had to offer as far as information and resources for information regarding the programs they offered, and decided to enroll in PF's Vet Tech program."
Some might think that those who seek an online education are adverse to change and are antisocial but in reality, there is a network of potential friends our students can tap into! Brittney Minnich found the student community to be a helpful resource for communication and information.
"You are always involved with everything that is going on with the school in an email they send out to the students, or if you join the school's community. The community is a great place to always be in the loop of how Penn Foster is doing along with being able to talk to fellow classmates in the community as well. I enjoy the community because I can reach out to others who are in the same program as I am to ask for help if it is needed. Also included in the community is a space just for the others who are in the same program as you are. With always being involved with Penn Foster you are never behind or suprised with any changes that are happening."
On the topic of change, many students can relate to nervousness or anxiety. Students like Sarah Wehe choose to open themselves up to leadership roles to improve on their interpersonal skills.
"I have become more positive in what I can do and achieve anything that I put my mind and heart into. I am not as shy as I was before, I can open myself up to others and have found new friends during this program."
Lorraine Tompkins also dealt with the constricting feelings brought on by traditional schooling programs and found success with online learning.
"I love animals, and I love to learn new things, so studying to become a vet tech really is a dream come true for me. I love the flexibility that the online environment provides as well as the fact that there are no deadlines to add to my already skyrocketing anxiety. But that flexibility and detachment can also lead to isolation and insecurity, and that's my biggest downfall. And that's probably also the biggest reason why I'm so grateful for Penn Foster and the wonderful support system that it inspires. It's not just that the instructors are approachable and helpful, or that the support staff really do want to help the students. It's also that the students want to help other students. To encourage them when they're not really feeling it (because we all go through feelings like that every once in a while), celebrate their achievements with them, or just offer practical day-to-day advice about their area of study. I've actually made friends here! That was something that was both unexpected and delightful. And I'll be forever grateful for that. This may not be the easiest thing I've ever done, but I think it could be the most worthwhile."
Whatever your reason for enrolling, there ARE students at Penn Foster who can relate to your needs, struggles, and motivation to succeed. The Student Ambassadors are active with all of our students who reach out seeking help or seeking a friend. No matter your background, you can find a home at Penn Foster.