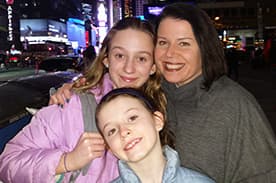 March is Women's History Month and we want to shine a light on some of the amazing Penn Foster women who inspire us daily! They are goal-driven, persistent, artistic, creative... and they're leaders. Meet Danielle! Danielle is a mom, an artist, a writer...and does some magical face painting for community events!
Danielle Dunbar, Production Manager
"The thoughts we choose to think are the tools we use to paint the canvas of our lives." — Louise L. Hay
Q: Since we're celebrating Women's History Month, what powerful, strong women (historical, fictional, present-day) have inspired you?
A: My high school art teacher, Kathryn Rowedder. She was the coolest grown-up I had ever seen — she had one entire side of her head shaved! But what made her even cooler was her inspiring response when I told her everyone kept telling me I couldn't earn a living as an artist. She told me to take a look around — everything I saw was made by an artist: our clothes by a fashion designer, our furniture by a product designer, our books by a graphic designer, our building by an architectural designer. Kathryn Rowedder changed my mind that day and I went on to prove the naysayers wrong and make a living as an artist in many different and colorful ways.
Q: What accomplishment makes you most proud? It could be anything that has inspired you to make change happen!
A: I am most proud of being a mom to my two daughters, Tierney Violet and Chloe Bluebell. Being a mom is the best and most challenging responsibility. I am not a person who pats myself on the back, but I know I have done a good job so far and I am excited to see what kind of women my little girls grow into.
Q: How did you become the leader that you are today? Or what lead you to where you are today?
A: Adversity. I grew up in a tough, big city with very little guidance, so I was on my own. It was difficult and not the way I would have chosen things to be, but it made me strong and I see that as a blessing.
Q: What advice would you give to young girls who may not believe (yet!) that they can make a powerful impact in their communities and in the world as a whole?
A: Think globally, act locally — our communities need anything we can bring to the table. Find things you are passionate about, volunteer, show up for life — you only get one shot and you want to make it count.
Q: What advice would you give to Penn Foster students?
A: Triage your to-do list; tackle smaller, quicker tasks first, then roll up your sleeves on the bigger ones. Avoid procrastination like the plague. And KEEP GOING!
Danielle didn't let the naysayers keep her from finding and following her passion. Neither should you! No matter what they say, if you have a dream and a plan, you can work towards making it happen. You've got this!