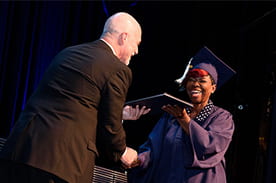 Penn Foster Graduation | June 2, 2018
In teen movies, Graduation Day is the happily-ever-after ending the audience was waiting for. It's the ultimate endgame, the end of years of hard work. And, sometimes, the lead up to graduation is the catalyst for any action and adventure that happens in the movie. Graduation in real life, as an adult, can feel quite a bit different. As adults, we're busy, we have work and family and life going on, so taking time to sit back and celebrate our successes seems wasteful. But, even almost ten years later, I regret not going to my college graduation. Before you regret missing out on marking a milestone, check out a few reasons why you should attend your graduation ceremony!
You've worked hard and deserve to be recognized for that!
Completing high school, career school, or college is not easy. This is true when you attend a traditional, brick and mortar campus, but it can be even tougher to complete online when you are trying to juggle everything you need to get done and keep yourself motivated. Your hard work and accomplishments deserve to be recognized. What better way to do that than with a ceremony dedicated to celebrating your accomplishments?
Share your success with your loved ones!
As an online student, your biggest support system is your family and friends. They've been with you through the whole thing; the ups, the downs, the long nights studying, the fun activities you may have missed in order to finish a paper or study for an exam. For them, your graduation is a big moment to show you how proud of you they are. Besides showing you how proud they are of all of your hard work, the graduation ceremony also gives you a chance to be a role model for your friends and children in real-time. They can see the results of all your hard work... in person!
Meet your instructors and support staff!
Working on your program, you've probably interacted with different Penn Foster staff over the phone and through email. You've spoken with your instructors or had help from a Student Advocate. You may remember their names, but it's always nice to put a face to a name. At Penn Foster, we're enthusiastic about what we do and can't wait to meet you!
Get professional headshots and fun photobooth pics!
Do you have a LinkedIn profile? Do any applications you're submitting require a social media profile? Just want to have a professional photo of yourself to commemorate the day? You can get professional headshots done before the ceremony, as well as have some fun with our photobooth and pose with silly props to remember the day.