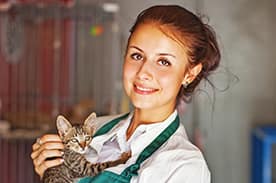 If you're reading this, I bet you've always wanted to work with animals. You've probably looked into becoming a Veterinarian, a Zookeeper, a Veterinary Technician, or a masked vigilante (a la Batman) who looks out for the downtrodden puppers, kittens, doggos, froggos, and more of the world. You want to help animals fuzzy and furry, scaly and less... scaly. But, despite your deep adoration of creatures big and small, nothing you've looked into has appealed to you. Maybe you're not a fan of the messier aspects of being a tech, or you don't think you're ready to spend 8 years in school to become a full-fledged veterinarian. Thinking you're never going to find something in the field that fits your skill set and your goals, you've "settled" for getting your animal care fix through volunteering at shelters and rescues, which lets you do good work and love some animals that need a little TLC. But, before you give up on finding the job of your dreams, have you ever considered becoming involved in the business side of the veterinary world? Did you even know you could? Well, this post is for you!
Your love of animals and your business savvy may be a perfect fit for becoming a Veterinary Practice Manager! While the veterinarians, vet techs, and vet assistants are absolutely vital to a thriving animal clinic, they need a skilled, savvy, reliable person to manage the day-to-day tasks that keep the place running. As a Veterinary Practice Manager, you'll manage staff, plan out schedules, balance the books, make sure payroll is completed, keep track of the business side of well... the business — and get to hang out with some cute patients! This all sounds too good to be true, right? You've been burned before in your search for the perfect anima- friendly workplace. Before you pass this blog post by, check out the skills needed to manage a veterinary practice. You might be surprised that you check all the boxes!
Soft skills.
Okay, we talk a lot about soft skills here at Penn Foster because we think they're important in every job! These are the skills that help us work well with others, learn new things, and be a leaders in our field. It's more than knowing how to speak to someone; it's about knowing when you need to reflect upon a situation, how to approach a problem, or how to make sure you're doing your best every single day. So if you've got some soft skills, you're off to a great start!
Business know-how.
I would have said "savvy" again because "business savvy" sounds cool, but since I've used the word three times already, let's talk about business "know-how." One thing that Veterinarians and Vet Techs don't really cover in school is running the business side of a clinic or hospital. They're in the trenches, all about the patients, vaccinations, surgeries, calculating dosage for prescription meds for your pup. They're amazing at what they do and they're dedicated. But that dedication doesn't leave a lot of room for actually running the clinic. To better concentrate on helping our furry pals, a clinic needs a business guru. If the doctor is spending half his time worrying about hiring new techs and assistants, the dispute between Sue and Dave about scheduled breaks, or ordering the supplies the office needs, his patients aren't going to get his full attention. Those with a business background and knowledge of accounting, HR skills, and even marketing skills will be an indispensable asset to a veterinary practice. They'll keep things on track and even drive new business to the clinic because of how smoothly things run!
A sincere love of animals.
Unlike managing any other type of office, one big "skill" necessary to be a successful practice manager is an honest, sincere love of animals. You're concentrating on the business side of things in your work, but you're also seeing patients come through the office. You may even have a clinic cat or pup who is the beloved resident of your workplace. Besides getting to see these beautiful babies every day, truly caring about the outcome of their appointments and making sure they're well taken care of is a big part of running a practice. The Vet Techs you hire, the policies you help put in place, the marketing ads you put in the local paper can help your clinic get more attention, bring in more revenue, AND bring the best care possible to your patients and their humans.
Becoming a Vet Practice Manager isn't as easy as saying "I am now going to be a Vet Practice Manager." Depending on your education and work experience, you may have some long hours of studying ahead. And even when you're in the field, you may have some really tough days. Let's be honest, no job is perfect. But, if at the end of the day, you feel satisfied by the work you've done you're off to a great start.