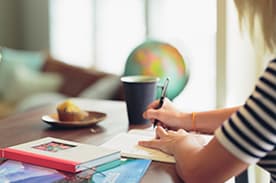 As of 2016, there are an estimated 2.3 million plus home-educated students in the United States.¹ Demographically, these students and their families don't fall into what has become a stereotypical representation of homeschooling — awkward or socially uncomfortable students. That caricature of the traditional homeschool family made popular in television and film over the years doesn't speak to the wide variety of people who choose to educate their children at home. With widespread access to the internet becoming more affordable and common, more families and their students from all walks of life are able to take advantage of accredited and licensed online homeschooling. While becoming more mainstream, homeschooling and distance education can come with a particular set of struggles and concerns, especially for parents. The biggest worry can often be simply how to ensure their homeschooled child can succeed in their courses and in the future.
Curriculum for accredited online high schools like Penn Foster are approved and vetted by regional and national accrediting bodies, ensuring that your students lessons are on par with schools across the nation. Parents can be confident that their student is provided with the appropriate coursework, but with a self-paced, independent learning platform, it can seem difficult to make sure they're on track to graduation. So, as a parent, what should you do?
Paul Schneider, Penn Foster High School Social Studies Instructor, offers this essential piece of advice: "Treat their homeschool studies the same as in traditional schooling. Ask questions about their day, and what they're learning!" Distance and online education allows you to be confident that your student is being taught by certified and knowledgeable instructors like Paul, but an integral part of the learning process is showing interest in the what your student is learning and making sure to closely follow their progress. Unlike traditional schools, many online homeschools don't send quarterly "report cards" due to the self-paced nature of the learning platform and materials. To keep track of progress and ensure success, parents are encouraged to request grade reports from the school on a regular basis. Not only does this allow you to see where your student is exceling (or where they need some help), you're able to keep abreast of their progress. How many classes have been completed? How many are left? Along with making sure you have the login information for their student portal, these steps can help you help your student on a path toward successful completion of their high school diploma.
Additionally, helping your student break study time into small portions and assisting them with studying can have a major impact! Brian Brown, Penn Foster High School Department Chair, says that taking notes and breaking the study units and reading material into small pieces can help students retain the information better and gain a deeper understanding of the main idea of the section they just read. Furthermore, "a tired brain isn't productive," says Brian. Your student should take small breaks throughout studying in order to be fresh and focused.
How else can you help your student succeed? Being aware and supportive of what they're doing, as well as being involved in their studies will boost their confidence and help you, the parent, stay on top of their progress. But doing little tasks, such as creating practice tests, flashcards, or even sharing your own study tips with your homeschool student can make a huge impact on them.
Many homeschooled students and their parents are ambitious and incredibly dedicated to pursuing goals and reaching milestones. Often, traditionally aged students choose to homeschool themselves because they feel they can learn more at the pace that feels right to them on their own, instead of their learning being dictated by those around them. However quickly a student learns, though, remember this piece of wisdom from Brian: "Don't try to do too much in a short period of time. Brains are like a drinking glass. You can only pour so much into it at one time before it overflows!"