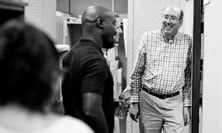 Not to brag, but we have a pretty amazing teaching staff at Penn Foster. From tournament Texas Hold Em' Players, to Pizza Connessours, to Fire Walkers - our instructors bring a lot of life experiences to the table! With the education they provide, their mission is to help you achieve some big life experiences of your own by putting you on the path to a rewarding career.
Take Skilled Trades Instructor, Bill Gallagher. Bill has six certifications and licenses, is a Member of the International Society of Certified Electronics Technicians, and is a Member of the Institute of Electrical and Electronics Engineers Computer Society. Phew! That's a LOT of qualifications! As a lifelong learner, Bill has an infectious passion for involvement and education.
Then there's the ever popular Veterinary Academy Director, Dr. Jim Hurrell. To put it in his own words, "I am so very excited to be the Veterinary Technician Program Director here at Penn Foster! The Program is fully accredited with the American Veterinary Medical Association (AVMA), which means our graduates can sit for the Veterinary Technician National Examination (VTNE) after graduation. There are so many excellent things in place that make this an awesome program. The academics in the online courses, with great study guides and textbooks, are the best I have seen nationally." Dr. Jim makes a huge effort to connect with his students. Online, he runs the Penn Foster Veterinary Technicians Group and has participated in our Facebook Live events. Offline, Dr. Jim attends graduation almost every year so he can meet Penn Foster grads face to face!
Dawn M. Sileo, CPhT, was a woman of many accomplishments even before joining Penn Foster. Dawn said her "Pharmacy Technician career began many moons ago. I started working, while attending high school in a small retail pharmacy, which was located out in the country. I have never stopped working as a pharmacy technician. Throughout the years, my pharmacy technician experiences include, hospital, home infusion, retail, extended care, mail-order, academics and even nuclear." That passion radiates with her students, many of who share that same vibrant drive.
For the hard work of our faculty, our students are grateful. Chery Tee says, "I'd like to give a BIG thank you to all you teachers and board of Penn Foster High School for all the hard work and effort you put into this program to help us all have a better and brighter future!!! It is greatly appreciated!!! I think there are other students who would say the same! Thanks for the support!"
Our wonderful faculty and success coaches make sure no one is in it alone! This Teacher Appreciation Week, take time to thank the mentors in your life who taught you, guided you, and pushed you to reach your full potential.