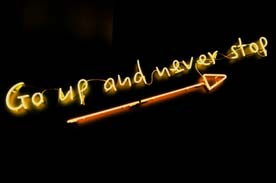 Each student at Penn Foster has an amazing, unique story and voice. We'll be sharing guest blogs from our Student Ambassadors throughout the year about their feelings on staying motivated, Penn Foster, and reaching their goals. Read what Cheyanne Hunter, a Graphic Design student who specializes in fun images and logos, has to say about being afraid to fail!
When I enrolled with Penn Foster, I wasn't actively looking to go to school or do anything more than what I had already been doing with my life. In fact, it was my grandmother who had introduced me to Penn Foster's Graphic Design Associate Degree program and motivated me to enroll. At the time I, unfortunately, was completely hesitant about it. My whole life had been spent living in a comfort-zone that I seldom left. What if stepping out of that comfort zone and attempting something new led to failure? In my mind, doing nothing at all meant that I would never fail, and if I never failed that in itself was a success. I put off enrolling into the program because of my flawed thinking. Eventually, my mother persuaded me to enroll into the program by reminding me that nothing was ever going to get better in my life if I did not try, and continue to try, despite the threat of failure.
I've continued to test out new opportunities since enrolling into my program. After learning about the Student Community from the orientation lesson, I decided to sign up! This might not seem like a huge step, but socializing in new, or any, situations was something I've avoided ever since I was little due to the massive amount of anxiety and fear that it created. Nonetheless, I made it a point to stick with the community and try my best to answer questions and help out my fellow students. I'm glad I did because the students, staff, and instructors were a great source of encouragement and support throughout my studies. After about a year of being active on the community, there was a post about applying to become a Student Ambassador. Normally, this is something that I wouldn't even consider doing since there's a chance the application would be turned down or that I wouldn't do a good job if selected. Challenging myself once again, I turned in my application to become a student ambassador and was selected shortly after.
Applying for the Student Ambassador program has proven to be a treasure trove of opportunities! I made a conscious decision to participate in each new opportunity presented, regardless of how anxious or nervous they made me. One such opportunity was a group project that involved collaborating with a few other ambassadors and making a video about being in the program. This project was especially intimidating to me because it involved having to socialize, reveal more personal aspects of myself, and physically be in a video. If I had not challenged myself to participate fully in the program, then there is no doubt in my mind that I would have passed by this opportunity. I'm glad I participated, though, because it helped me create a support system of new friends, taught me leadership and collaborative skills, and inspired me to continue growing as a person. It was also the point where taking on new opportunities started to get easier to do!
Taking advantage of the opportunities presented by Penn Foster, the student community, and the student ambassador program has helped me realize that you miss out on some of the most amazing, wonderful experiences if you are too afraid you'll fail or if you don't put yourself out there. If I had never enrolled in Penn Foster and experienced such a supportive and encouraging atmosphere, I am unsure of when, or if, I would have come to this realization. While my mother had words of wisdom to get me started taking more chances that may result in failure, I'm thankful to Penn Foster for providing the opportunities and experiences that has made my mother's words reality. It's changed the way I approach life.