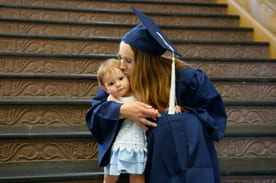 "The natural state of motherhood," said Jessica Lange, "is unselfishness. When you become a mother, you are no longer the center of your own universe. You relinquish that position to your children." Whether you're comfortable or struggling to make ends meet, you do what you do to benefit your children and we celebrate that limitless love and generosity you give every Mother's Day.
It's a full time job, giving endlessly. Tantrums abound, and a tummy ache takes precedence over anything else. On top of daily, hourly concern, and frustration and love, you may also be worrying about making sure your babies have absolutely everything they need and more, including making sure you're the best role model you can be. With all that you have on your plate as a rock star mom, it can be tough to figure out how to also reach your goals and juggle all of your responsibilities. How can you provide for your family, be the girl boss of your dreams, and still make sure you're there for bedtime stories and sniffles? In a digital age when access to information is literally at your fingertips, pursuing an online college degree could be the first step you take toward meeting your goals and crushing your obstacles — and maybe even making a bit more money — all while living your life and caring for your family.
In 2015, college graduates earned 56% more on average than those who only had a high school diploma, according to data compiled by the Economic Policy Institute.¹ This type of data generally applies to undergraduate Bachelor's degrees, so it can help to take a look at each level of education to get a solid idea of how much of a difference this can actually make. Workers with less than a high school diploma, for example, make an average of about $25,000 per year, according to the Bureau of Labor Statistics. Those with a high school diploma can look to make an average of about $35,000, while an Associate degree can net workers an average of $41,496. Someone with a Bachelor's can generally make $59,000 per year, average. We're all pretty familiar with the idea that, the higher your education, the more you're likely to make. But just as compelling is the fact that, the higher the education, the lower the percentage of unemployment.²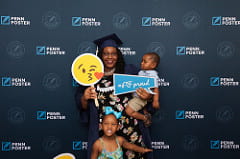 All of that data, those numbers, are pretty common sense. We're taught that, to truly hit our goals and reach our potential as humans, we've got to go to college. It makes sense that someone with a degree is going to earn a bit more. But whether you're a stay at home mom or employed outside of the home, finding a little time in your hectic schedule to make it to class or do homework isn't easy. That's where Penn Foster College and a solid internet connection come in!
With self-paced, no deadline degree programs, you can pursue your goals whenever you get a spare moment, whether that's nap time or a lunch break at work. With 20 Associate degrees, 2 Bachelor's, and 8 unique Undergraduate Certificates, you've got options, too. If you want to earn more and help others, becoming a Medical Assistant can help you on the path toward a career that makes you and your family proud. Or, if you want to own a business, a Business Management degree might be the first step. Whatever your endgame is, you don't have to wait for you kids to graduate high school and move out to make time for earning your college degree. It might take you longer than a student who isn't a parent, but you'll be able to sneak in study time, exams, and assignments when you have time, not when the school dictates. And if your family gets sick or you need to work overtime at your job, you're not going to be penalized for an "absence."
If you're a stay at home mom, a working mom, a single mom, married... whatever you do to benefit yourself and your family means you're making moves. It's 2018, right? Besides doing everything on our phones these days (you can totally read study guides, textbooks, and practice exams on most mobile devices), we also recognize that being a rockstar mom is whatever you define it to be. So if you want to inspire your kids to reach for the stars while you're going back to school... you can do it! Making mommy moves doesn't mean you can't make boss moves, too!
¹ Pay Gap Between College Grads and Everyone Else
² Average Salary By Education Level