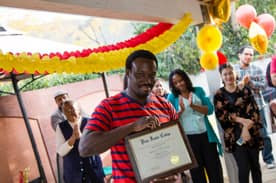 Graduation is less than a month away and it's YOUR time to shine! Whether you're celebrating in Wilkes Barre, PA with us or at home, take some time to reflect on the challenges you've overcome, the accomplishments you've earned, and the success you've shared.
Here are our tips on celebrating graduation at home:
House party! Invite your family and friends over, put on some music, grab some snacks, and let your supporters shower you with nice compliments about how proud they are. Get crafty and make some PF-themed decorations and a photo booth background!
Get social! We will be doing a live stream of graduation on our Penn Foster Education Facebook page. Follow the #PFGrad2018 hashtag for live updates and make sure you submit your own photos and shoutouts for us to see and share!
Reminisce on hard exams, tough papers, and the rough moments you struggled to get through. Smile because you DID get through them!
Send a message to your favorite instructor letting them know what kind of impact they had on your time at Penn Foster. Thank your supporters for helping you through.
Go out on the town! Have a nice lunch, go bowling, or take a hike and think about how you chomped you challenged, excelled in the courses that were right up your alley, and peaked the day you finally completed your program!
Dance it out! There's almost no freer feeling than busting a move when you've just achieved a huge goal.
Strategize your next steps. You are a grad with your eyes on the prize. Think about what you really want in life and go get it.
JAG (Just. Add. Glitter.)
Have any other ideas to share? Post them on social with the #PFgrad2018 hashtag!
Whatever you do, know that we are #PFproud of you and want to congratulate you on this major accomplishment! Whether you plan to enroll in another program, or continue on your career journey, we wish you the best and can't wait to see you succeed!