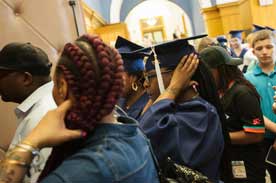 Can you believe that graduation is almost here? All over the country, schools, colleges, and universities are getting prepped to celebrate and commemorate the accomplishments of their graduates. Penn Foster is no different! We've been planning our biggest graduation ceremony to date so our students from all over the globe can have their moment in the spotlight! If you're gearing up for graduation and your triumphant walk across the stage, there may be some nerves that come with that. Don't worry, we've got you! Take a look at the Graduation Checklist below to make sure you have everything you need, especially if you're travelling from a distance to join us in Wilkes-Barre, PA.
Do you have your cap and gown?
While not required to participate in Penn Foster graduation ceremonies, the cap and gown are a big part of making everything feel a little more official when you walk across that stage! Traditionally, High Schools often assign different colors to men and women. At Penn Foster, we use this opportunity to unite everyone of our students and stick to navy blue for all grads. Make sure the cap and gown are pressed and wrinkle free so you feel your best on graduation day!
Have you made travel plans?
Many graduates travel quite a distance to walk in the annual graduation ceremony. Last year, we had students from as close as five miles away as well as students from as far away as South America, Africa, and Canada in attendance! If you need to travel a ways to find yourself here, make sure you've secured your flight, bus, or train as soon as possible. Not only will it be one less thing to worry about, tickets are often cheaper the earlier you purchase them.
Are you staying overnight?
If you're planning to stay overnight, make sure you have your room reserved! Not sure where to stay in the Wilkes Barre area? You can find our hotel and motel suggestions here! Sites like Kayak have a "when to buy" tool that will predict prices and tell you if you should book now or wait. While it's not often that hotels in the area are completely booked, the late spring often means several different graduation ceremonies, weddings, and large events happening simultaneously, so make sure you make plans as soon as you're able!
Do your friends and family have guest tickets?
While graduate ticket sales are closed, guest tickets can be purchased up until the time of the event! Your proud supporters can get their tickets through the link on the website here.
Pack a business casual or business professional outfit to wear under your gown.
The Commencement Ceremony begins at 2PM, but doors open at 11AM. You'll have the opportunity for professional headshots and graduation photos to be taken, as well as a chance to meet your instructors and teaching assistants. Photos from the event are uploaded to our Penn Foster Flickr stream afterwards and you can download those professional headshots to use for your LinkedIn profile and really stand out in your network!
Make sure your ticket is printed out or on your mobile phone.
This applies to graduates AND their guests! No one is permitted to enter the venue without a ticket, so make sure it's handy or saved to your smartphone to avoid any last minute panic. Tickets can't be purchased at the door of the venue, so make sure you have what you need before you arrive!
Don't forget to take a second to breathe!
You might be nervous, excited, thrilled, anxious, and a million other emotions as you get closer to the final steps of finishing your program. But take a deep breathe and think about how proud your friends, family, and teachers are going to be! You've got this, just like you've crushed your goals and finished your courses!
Remember, this is your day!
No matter what, don't forget that we're all here for you! From family who've been by your side while you've plowed through classwork and late nights, to the Student Advocates who've answered your calls about payments or textbooks or transcripts. We live for this moment, the moment to see each and every one of our graduates in attendance shine bright and smile big as they shake hands with our Academic Dean and walk proudly across the stage.
Whether you're graduating from a college degree program, career school, or high school, you've accomplished so much and we can't wait to see what you do in the future!