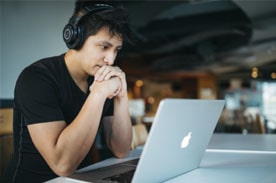 You've made a commitment to serve your country but you also want to continue your education and build a better future for yourself and your family. Fortunately, you don't have to choose between them. Online learning means you can study from anywhere while enlisted in the military. Hundreds of service members do it everyday, and you can too.
Getting started can seem overwhelming. You already have a fast-paced job and a family you want to spend time with. Do you really have time for school? With the right preparation, you absolutely do. Here are the four steps you need to take to build the future of your dreams.
Decide what to study
Some service members know exactly what they want their futures to look like. Others just know they want to get an education, but aren't sure what they want to study. You might want to get a degree that compliments the job you already have in the military. Then again, you might want to do something completely different. It's up to you.
Ask yourself these questions to find a program of study that you can get excited about:
What do I like about my current job?
What do I dislike?
What am I good at?
What have I always been curious about?
What kinds of jobs have family members and former teachers suggested for me?
What kind of work environments do I like?
Would I rather work at a desk or work with my hands?
Do I prefer interacting with a lot of people or working on my own?
These questions can help you narrow down your choices based on what you like and what you're good at. If you're still stuck, talk to your command staff or contact a career counselor to help you decide.
Once you've chosen an area of study, you can decide whether a bachelor's degree, associate degree or certificate is right for you. Consider the time it takes to earn each credential and how each one will benefit your future career.
Step 2: Understand your Benefits
Paying for your education is an investment in your future. Fortunately, it's one you don't have to make alone. You can use any of these funding sources to pay for some or all of your education:
Montgomery GI Bill® - Can provide up to 36 months of education benefits payable for 10 years following release from active duty.
Post-9/11 GI Bill® - Available to those who served at least 90 days on or after September 11, 2001. If you have been honorably discharged after at least 30 days of service due to service-connected disability, you're also eligible for this benefit.
Scholarships - Some organizations offer scholarships, grants and low interests loans to service members. These can be a great supplement to your military benefits.
Your spouse and children may also be eligible for education benefits. Programs like MyCAA, can help everyone in your family build a better future through education.
Step 3: Choose a school that understands service members
There are hundreds of schools to choose from, but some will be a better fit for your budget and military lifestyle. Narrow down your choices by looking for a school with the following features:
Online classes so you can keep studying even if you're deployed
Flexible schedules so you can balance work, school, and family
Strong support networks so you can get help when you need it
Accreditation so you know you're getting a valuable education
Programs you're interested in so you can achieve your goals.
Penn Foster checks all of these boxes. Our students set their own schedules and there are no due dates for exams, which takes the pressure of off busy service members. You can contact your instructors by phone or email so you can get help quickly. In addition, every student has 24-7 access to our robust online student community. Learn anytime, anywhere and have access to all the support you need. All of these factors have helped us earn bronze Military Friendly Status for 2018-2019.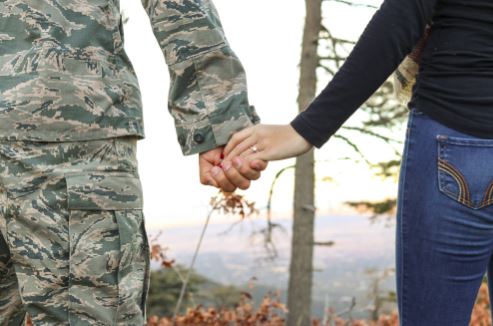 Step 4: Set your schedule
To stay on track toward your future, you need to stay focused. The military and your family are major priorities in your life and you need to spend time on them. If you're going to study successfully, you'll need to find a way to balance these priorities with your academic goals.
Try to set aside some time every day to study. It doesn't have to be a huge chunk of time. Most people can only study effectively for about 90 minutes before the brain needs a break. The important thing is to set a study schedule for yourself and stick to it. That might mean you get creative. Maybe you study after the kids go to bed, or before they wake up. Maybe you stop at the library on the way home to get some quiet time.
Sticking to a study schedule is particularly challenging if you're deployed. Shift schedules change and the unexpected happens more often than not. You can set yourself up for success by choosing backup study times in case you can't make your first study session. Don't use your backups as an excuse to skip your regularly scheduled time, but do use them to keep yourself on track when life gets hectic.
Let family and friends know that you might be even busier than usual over the next few months while you work on your education. Remember that education is an investment in your future, which makes it an investment in your family's future too. Don't be afraid to set boundaries around study time. Let everyone know that you can't be disturbed while studying.
Get Started!
Penn Foster has supported service members for more than 90 years with flexible courses that help them build better futures. During World War II, service members took courses by mail. Today the technology has changed, but our dedication to supporting the armed forces hasn't. Contact one of our expert Admissions Specialists for help enrolling at Penn Foster today.