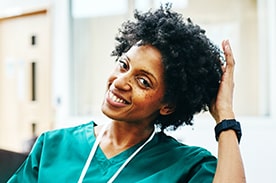 Do you lend a helping hand to people in need as your career or want to? If yes, then clear your schedule!
Starting October 15, Penn Foster will hold its First Annual Helping Professions Conference. The week-long conference will consist of webinars for students, alumni, professionals, and guests.
You'll connect with fellow helping professionals and improve practices that will empower you to succeed in your field. Penn Foster's helping professions include Allied Health, Early Childhood, Pharmacy Technician, and Veterinary Technician.
A career in the helping professions means you have a desire to help others. Whether you're working with people or animals, your career will be rewarding, as you have the ability to positively impact someone's life. That's why it's important to learn the valuable skills you need to ensure you're career ready. The webinar topics will expand across various helping professions, increase your knowledge, and challenge your thinking.
Here's a glimpse of what's in store:
Already in the field? There's always more to learn. Use this opportunity to connect and collaborate with colleagues, or meet students who will be starting their careers in no time.
If you're a Penn Foster graduate wondering how you can get involved, here's your chance! You know what it's like to be a student. Now, you're in the field, working hard and applying the skills you learned to your everyday life. Connect with students and give them tips and advice!
Whether you're exploring your options as a helping professional, new to the field, or elevating your career, Penn Foster wants to help you better your community one person at a time. Don't miss the opportunity to be the best helping professional you can be! Sign up today.