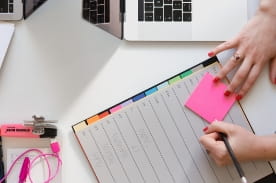 Creating a Study Plan
When you're balancing a full-time job, a family, and life in general, the idea of going back to school to pursue the dream job you've always wanted seems overwhelming. How can you fit classes and studying into your already over-booked calendar?
Before you give up on your goals or decide you can't make it work, that you don't have time to enroll in school or that you should quit your program if you're already enrolled, take some time to draw up a practical plan to make it work. Here are five essential tips for creating a solid study plan that can help you balance your life, work, and education so you can rock your studies.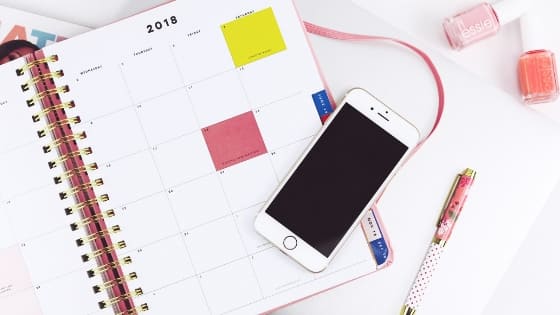 1. Set goals and give yourself a specific amount of time to complete them.
When you've got a life jam-packed with responsibilities, it can be tough to imagine being able to squeeze in enough time to study and learn. It's definitely possible to do, though, if you're enrolled in a self-paced, flexible online program.
First, decide when you want to graduate. What's the goal? Six months from your start date? A year? Once you decide that date, you can make that your goal in your student portal.
Take a look at how many lessons need to be completed in your program to finish. What classes do you have? What ones may be easier for you? Tougher? Then, figure out how many lessons you'd need to complete and exams you'd need to pass to graduate by the date you picked. Your expected graduation date is updated in your portal and now you have a deadline to hold yourself to.
Make sure to add in some buffer time on your calendar for any classes that you're worried about. Maybe you hate math and you know that's going to be tough to learn. You may need to spend more time studying, or reaching out to instructors and teaching assistants for help understanding the material. Having extra time built in to do that will make it less stressful in the long run.
2. Pull out the calendar!
Whether you prefer using a digital calendar app on your mobile device or you love your physical calendar with cute cat pictures for each month, sit down and fill out each day with everything you need to do. If you work Monday through Friday, 9AM to 5PM? Write it down! Do you have regular social events or plans each week or month? Put those on there, too.
Basically, anything that regularly takes time in your day should go down on the calendar so you have a firm idea of how much free time you have, and when. You don't have to fill it out for the whole year, but make sure to do at least a full month to give you an accurate idea of what time you have. As you know, any free time you do have fills up fast so it's important to write down your plans in advance.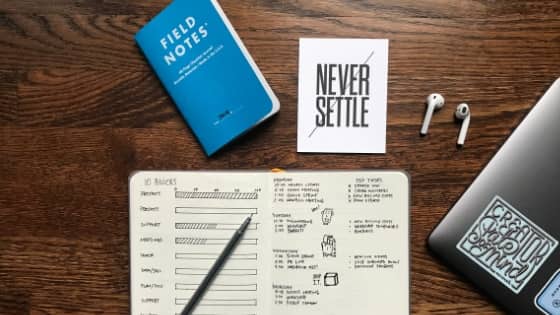 3. Make your study schedule.
So how much free time do you have based on the calendar you filled out? Five hours a week? Ten? Sundays only? Whatever the amount, use that to make a study schedule.
Just like your regular job, weekly chores, and plans, your study time should be something that you put on your schedule. This will ensure that you can take the time you need to work toward your goals, even if it's just an hour a week.
4. Get organized.
You've got your schedule. The next step? Getting organized. Make a checklist of tasks you need to accomplish, like what chapters you need to read or what assignments you need to complete. Check off or cross out tasks as you complete them. Not only will this keep you on track, it'll give you a small boost every time you get something done that'll keep you motivated to push forward.
To make the best use of the time you have, it'll also help to keep your notes organized. This could mean using a different notebook or folder for each class or color coding your notes. If you're the type of student who prefers to type your notes instead of hand writing them, the same idea applies: organize the documents on your computer however it makes the most sense to you. The point of getting organized is making more efficient use of your time and having everything you need in the right place so you don't waste any of your study time searching for the right materials.
5. Make it fun!
Putting together a study plan and keeping organized doesn't have to be boring! Depending on how creative you want to get, there are different ways to keep a fun, put together planner that can keep you on track in style. The Bullet Journal is a great example of this.
A bullet journal is a customizable planner system that uses codes, colors, and whatever you like to keep schedules, to-do lists, checklists, budgets, and more. There are plenty of guides and how-tos online to walk you through setting up your first bullet journal, but it's such an open, creative method of keeping tabs on your life that you can do it however works best for you.
Pulling inspiration from your days in elementary school, another fun way to stay on track is to reward yourself. Whether that's putting a gold star on your calendar when you accomplish a goal, or treating yourself to a delicious snack for acing an exam, allowing yourself to celebrate your wins will make your victory, and graduation, all the sweeter.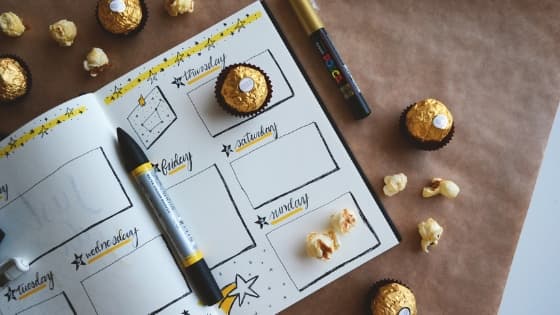 Your goals and dreams don't have to fall to the wayside because your life is hectic. With flexible, self-paced online education offered by Penn Foster, you can work toward your dream job and still work, live life, and take care of your family. With a plan, a schedule, and support from friends, family, and teachers, you can make the life you want happen.