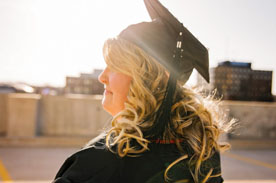 Tuition Assistance
You want to be a better you. You're looking for more opportunities. You're ready to make your comeback and earn your degree. Now, how do you pay for it? If you work for a company that offers tuition assistance, you're in luck. Tuition assistance can help you go back to school.
You probably have a lot of questions about how tuition assistance works. This step-by-step guide will help you figure it out.
Tuition assistance or tuition reimbursement is a benefit some employers offer. With this benefit, your employer will give you money to help you pay for a degree or certification.  They might give the school money directly, or you might pay the school and your employer will give you the money back. Either way, you get your education without spending a ton of money.
Every employer has their own program with different rules and options. The human resources department is in charge of most tuition assistance programs. If you have questions about the program where you work, you can talk to HR for answers. 
Step 1: Know the Rules
HR should be able to give you a written copy of the tuition assistance policy. They should also be able to answer your questions. Here are some questions you should ask:
What classes or courses will the company pay for? Some employers will pay for any class you want. Others ask you to take classes in an area that relates to your job.
Do I have to study with a specific college or university? If your company has partnered with schools or universities, you might need to study with one of these schools to get your benefit.
How much tuition assistance can I get? Some companies pay a percentage, others have a specific amount they will pay out in a given timeframe.
How long do I have to work here before I can get this benefit?  Some employers will not pay tuition assistance until you've worked at the company for a certain amount of time.
What should my grades look like? Your tuition assistance benefit might go away if your grades drop. For example, you may need to keep a B average or above to get money for the class. Knowing what the rules are, will help you avoid surprises later on.
Most importantly, you should ask whether the school will be paid directly or if you will be reimbursed. If the school is paid directly, you won't have to spend your own money to enroll. If you will be reimbursed, you have to pay the school and your company will pay you back later.
Some companies will reimburse you in a few weeks after you start school. Others might wait until you finish the course or get your final grade. Know when the money is coming so you can plan ahead.
Step 2: Tell your employer
Once you have all the information, you may need to fill out a form to let your employer know that you will be using tuition assistance. Even if you've already talked to your manager and to HR, you might still need to fill out a form. Employers like to have a written record of everyone who is using the benefit.
You might have to do this even before you enroll. Ask the HR department what paperwork they need to make sure you get your tuition money.
Step 3: Pick your school
If you haven't already picked the school you'd like to attend, now is the time. Check that the school offers the program, certificate or degree you want to earn. If you're not sure, you can look on their website or call the admissions office.
When choosing a school, check that it meets any requirements your employer has set. For example, many employers want a school to be accredited - that means that the school meets certain quality standards set by state and national governments.
Look for an affordable school that offers flexible programs. Spending less money on each credit, will make your tuition assistance benefit go further. Flexible programs that you can access online and on your schedule, will help you balance your schoolwork, your job, and your life.
Step 4: Talk to the School
Contact the admissions department at your school to learn more about programs and resources that might benefit you. Admissions officers are there to help, so don't be afraid to ask questions.
You might also need to give the school some paperwork from your employer. This paperwork lets the school know that your employer has agreed to pay for your classes. Without it, the school will expect you to pay. Make sure you know what paperwork you need and what the deadlines are.
Step 5: Sign up for classes
Sign up for the classes you want to take. You might go to school full or part time, or you might just take one class at a time. Make sure that whatever you do is covered by your employer's program. Some companies might ask you to get your class schedule approved by your manager or the HR department.
Step 6: Confirm your enrollment with your employer
The final step is to give your employer paperwork that shows you've enrolled in school. They may need to see a course schedule or a letter of acceptance before they can pay out funds. As always, talk to HR if you're not sure what paperwork you need.
Don't be afraid to ask questions.
By now you've probably figured out that communication is the secret to using your tuition assistance benefit. Don't be afraid to ask questions. Your HR team, enrollment counselors and financial aid advisors are all there to help you. Follow their advice, and you'll be ready to get the degree, and the life, you've always dreamed of.
Penn Foster can help you get there. Our flexible, affordable courses are designed to help working adults build a better future. Contact an enrollment counselor today.