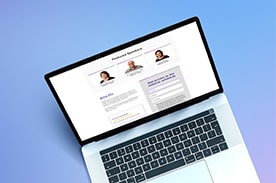 Student Success & Career Fair
You've got career goals and you're working hard to make those a reality. Whether you've already taken the first step and enrolled in an online program to help you reach them, or you're considering going back to school with Penn Foster, this week long webinar fair can give you insight into the online education experience. You're on your way to career confidence, but when it comes to interviewing and making sure you put your best foot forward, no-cost expert advice never hurts! Wondering what employers expect of you in an interview? Not sure how to talk yourself up in cover letters or on your LinkedIn profile? Whether you're ready to start the job hunt, need some helpful hints on being as successful as possible with your studies, or you just want to get some tips on living a healthy lifestyle, our 2019 Student Success and Career Fair has something for you.
What is the Student Success and Career Fair?
Penn Foster's Student Success and Career Fair is a week jam-packed with fun, helpful webinars for students, graduates, and anyone looking to learn more. Starting on April 15, 2019, you'll have the opportunity to tune into a variety of webinars lead by Penn Foster Instructors, Student Advocates, Admissions Specialists, executives, and experts from different industries. The webinars are no-cost, so you can register and attend as many as you're interested in!
What can you look forward to this year?
With 30 webinars scheduled throughout the week, there's a lot to get excited about! Take a look at some of the highlights.
Career and Interviewing Tips
Interview Like a BOSS | April 16, 2019 | 8:00 AM EDT

Penn Foster's Chief Operating Officer, Dara Warn, will be sharing her tips on how to improve your chances of success in any interview setting. You'll learn the importance of how you present yourself, both visually and verbally. Get some inside tips on what employers are looking for when they're face-to-face with job candidates.
Interviewing with Ease: An Employer's Perspective on Candidate Interviews | April 17, 2019 | 6:00 PM EDT

Marie Davis, Penn Foster's Director of National Employer Partnerships, is an expert on what employers are really looking for during interviews. For spoilers, she recently shared some helpful tips in another blog post, and she'll be going into more detail on interviewing from the employer's perspective. Do you meet employer expectations or have any of these red flags? Check out the webinar to find out.
Personal Branding: The What, The Why, and The How of Making Your Identity Stand Out to Leading Employers | April 19, 2019 | 2:00 PM EDT

What makes you YOU? What unique combination of skills do you bring to the table?

Join Frank Britt, Penn Foster CEO, to learn how self-packaging with the ability to define your core strengths can be the key to standing out from the rest of the crowd in today's fiercely competitive job market. Discover how creating a personal brand can help you promote yourself and leverage your assets to stand out from the competition, and could improve your chances of getting the job you really want.
Academic and Lifestyle Advice
Besides preparing for your next interview, many of our presenters this year will be talking about how you can get the most out of your online student experience. From understanding how to write quality essays, to learning more about our student services, you'll be able to feel confident that you're doing your academic best.
Help Me, Please: How to Write Quality Essays | April 15, 2019 | 12:00 PM EDT

Writing a great essay can feel stressful if you're not confident in your writing skills. This webinar will cover some tips and tricks for improving your essays. Besides tips that can help you find success in your writing assignments, being able to write well is something that can help you in the "real world" of work and life. What you learn in this webinar can also help you write great cover letters and emails.
Fuel Your Health to Fuel Your Career | April 15, 2019 | 2:00 PM EDT

You have things to do and the more energy you can get, the better! Ann Swarts, Penn Foster instructor and Microbiology and Immunology PhD, with Rosemary Cook, a science instructor, will be discussing how to use vitamins and nutrition to your advantage. They'll cover what different types of vitamins are, what the best sources to get them are, and what benefits they offer the body. You can take what you learn in this useful webinar to boost your energy for studying, the job search, and more.
Tips and Techniques for Student Success in Online Courses | April 16, 2019 | 8:00 PM EDT

ECE instructors Katie Walsh and Sarah Owens are here to share with you their favorite success strategies and numerous techniques that are proven to increase student success! Bring your own ideas to share with others, and take away fun, easy, and creative ways to manage your time and make your student life easier.
The Student Success and Career Fair has something for YOU!
With dozens of webinars scheduled throughout the week, there's something for everyone to learn! If you're considering becoming a Penn Foster student, you can get an inside look at study skills and resources that are available to help students. If you're a current student trying to get through your studies, you can use the time management tips and tricks to make sure you reach your goals on your time. Are you a graduate? There are career-focused webinars to help you improve your interviewing, cover letter, and social media knowledge. There's even information that can be beneficial to your friends and family, so make sure you invite them to join in the fun! We highlighted only 6 out of the 30 webinars we'll be hosting the week of April 15, so make sure to check out the entire schedule and register for the webinars you want to attend.