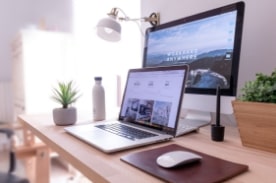 Set your goals, choose your path, and start learning!
Do you have a career goal in mind? Wherever you're planning to take your career, you've got Penn Foster in your corner to help you build a plan. Find the right program for you, schedule class and study time, and budget your tuition with help from your instructors, admissions team, and success coaches. Even when you're working from home at your own pace, you're never alone! Help and information is just a click away.
Staying on course.
Our dedicated faculty can provide the kind of academic support that can help you stay focused on your goals and complete your program. You can also access Penn Foster's goal-setting and progress-tracking tools through your student portal to help you organize your study routine. Select the study speed that works best for you, track your progress, set alerts for when you want to complete your exams, and more!
You can also get help directly through your student portal in email, chat, and discussion boards. Instructors and teaching assistants are also available to walk you through your academic questions by phone Monday through Friday, 9:00 a.m. to 6:00 p.m. eastern!
Our virtual library is open 24/7.
Besides your study materials and assignments, you can learn a lot through independent research! You can use the virtual library through your student portal to access resources specific to your courses and learn more about researching on the internet. If you can't find something you're looking for, our librarian is available to help through chat and email!
You choose how you learn.
Everyone has a different learning style. While some students learn best by reading and taking a lot of notes, others do better listening to recordings. With the flexibility of your online program, you can work through your studies at the pace that is right for you and your learning style.
Connect with your school and your classmates on social media.
Want to know more about what's going on with Penn Foster, classmates, and more? Make sure to follow us on Facebook, Twitter (@pennfoster), and Instagram (@pennfoster) and say hello!