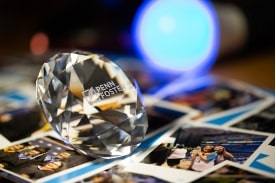 Our Awards
As someone looking to reach their career goals through furthering your education, knowing that you're getting an industry-recognized education is important to you. At Penn Foster, we strive to continually meet and surpass standards in order to provide innovate, flexible, online courses. Check out our awards and recognitions below.
AVTE/Merial Award for Excellence in Team Teaching
The Penn Foster Veterinary Academy Team has had the honor of receiving the prestigious Merial Award for having demonstrated exceptional strength in working collaboratively to generate creative learning opportunities for their students.
USDLA 2014 International Distance Learning Award
Our beloved Dr. Jim Hurrell, Director of Penn Foster's Veterinary Academy, was honored by the USDLA with the world's most prestigious distance learning award presented for Excellence in Distance Learning.
Penn Foster's Vet Tech Terminology Mobile Memory Game was awarded for its use of responsive design to engage and motivate students through interactive learning. The mobile app was specifically designed to help students learn challenging medical terminology, which in turn helps them build confidence, knowledge, and credibility in their careers.
Penn Foster was awarded Military Friendly® School designation by Victory Media for 2019-2020. Military Friendly® status is "the standard that measures an organization's commitment, effort, and success in creating sustainable and meaningful opportunity for the military community." For more than 90 years, Penn Foster has supported and worked with the men and women who serve our country. Being designated as a bronze Military Friendly® school for the second year in a row lets you know that we live up to the strict standards required to earn that honor.
CDA Gold Standard
Penn Foster College has been awarded the CDA Gold Standard.℠ The CDA Gold Standard℠ is part of their council's early childhood education effort to help early childhood education students find the high-quality training and student services they need in preparation for the Child Development Associate (CDA) exam, and a career as early childhood educators.
2016 Tyton Growth50 Company Recognition
Penn Foster has been recognized as a 2016 Tyton Growth50 company. The Tyton Growth50 celebrates innovative organizations achieving impact at scale through a combination of strong financial performance, market awareness and adoption, and demonstrated customer outcomes across the preK-12, postsecondary, corporate training, and consumer education markets.
2015 Brandon Hall Group Bronze Excellence in Learning Award
Penn Foster Education Group and Allen Interactions have won the 2015 Bronze Brandon Hall Group Excellence in Learning Award in the Best Use of Mobile Learning Category, for their jointly developed Mobile Memory Games app. The app features medical terminology games for online programs in the Allied Health and veterinary technology fields and has already been successfully deployed by Penn Foster, Inc. in its Allied Health and Veterinary Technology Associate's Degree programs.