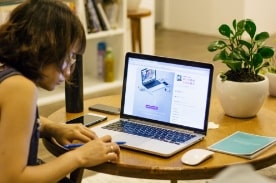 Study Tips
You're glad you signed up for an online program that allows you to study wherever and whenever you want. But the freedom to study at your own pace, especially when you've got a busy life, takes a lot of motivation. It's possible, though, to keep up with your studies while working, taking care of your family, and having a life if you know how to stay inspired. Here's a few of our favorite tips to keep you on track to reaching your goals.
Set academic, personal, social, and career goals.
Having real goals you want to reach helps you see what path you need to take to get to where you want to go. Knowing your needs and wants can help you stay motivated and keep up with your study schedule. To better your odds of making progress, make sure to set goals that are
Based on your values and interests.
Specific, realistic, and measurable.
Have start and finish dates.
Include both short-term and long-term rewards.
Recognize the causes behind your successes and your challenges.
Understanding what helped you succeed or what gave you trouble helps you make a plan to either change it (in the case of challenges) or continue doing what works.
Attribute academic outcomes to things over which you have control.

How much did you study?
Did you take notes?
Did you take the time you needed to understand the material?

Don't blame factors over which you have no control.
Take responsibility for your studying and learning.
Believe you can succeed.
You CAN reach goals if you work toward them. But if you don't believe you can do it, your attitude could affect your studies and progress. To stay positive, try to
Listen to encouragement from other people, especially those whose opinions are valued.
Not focus on failures or allow failures to make you afraid of trying again.
Ignore discouragement from others.
Penn Foster is here for you.
When you're struggling with motivation or trying to stay on track, it can feel like you're alone, especially when you're working on an online, self-paced course. But Penn Foster is here to help with motivation, questions, and more. You can get help from your instructors through your student portal. And, if you want some extra motivation, make sure to follow us on social media for shout outs, tips and tricks, advice, and more. You can connect with us on Facebook, Twitter, and Instagram.