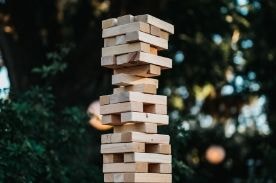 As the year winds down, you're cataloging your accomplishments over the last several months and preparing to start the new decade on the right foot. One of the best ways to keep your motivation well into 2020 is to build on the goals and achievements you've already reached. So where should you start?
If you've enrolled in school in 2019...
If you enrolled in 2019, build on that foundation in 2020 by setting a graduation goal! When do you want to be done with your studies? And what timeframe is doable with your work schedule and everyday life? From there, break out a brand new planner, notebook, or calendar and write a practical roadmap for hitting that goal. If you have six classes to do and you want to be done by the summer, how many exams should you take a week? How often do you need to log in and study?
Organize your "map" however works best for you! Once January 1st comes around, start checking off tasks each week until you've finished. Besides keeping you in the habit of making time for your education, you'll be able to look back at your calendar or document and see exactly how much hard work you put in to achieve your goal!
If you graduated in 2019...
Congratulations! You did it! Finishing a program, whether it's a career certificate or a bachelor's degree is a BIG DEAL and you should be proud. If you've reached this milestone in 2019, build on your success by taking another step forward in 2020. Did you study so you could advance at work? Do you hope to start an entirely new career in a different industry? Whatever your end goal is, there's no better time than the first weeks of a new year to make progress.
So, as you wrap up this year, take time to refresh your resume and LinkedIn profile. Make sure that you add your completed education! What are the skills employers in the field you studied for want in a job candidate? Research the best way to sharpen your resume and cover letters to appeal to the hiring managers in your specific industry.
If graduating was only the first step in your plan and you know the next is taking your education even further, enroll in another program. The motivation of a new year paired with the confidence reaching one goal gave you can help you jump into 2020 ready for anything.
If you started a new career...
Way to go! Finally finding a career you enjoy at a company you love is a huge accomplishment. But just because you've reached one milestone doesn't mean you're done achieving! If you started a new job, work toward learning the ropes in and out. Are you hoping to eventually work your way up into a more advanced position? Find out what you need to know to get there. Don't forget to take time to settle into your new role, though. Making new friends and networking with colleagues can make a workplace feel comfortable and fun.
Learning isn't over once you land the job you wanted. After you've been working for awhile, you may find yourself going back to school to add skills to your resume and improve your understanding of the industry. Don't think of going back to school as "starting over." You're just taking the next step in a lifelong journey!
What next step will you take in 2020?
No matter where you are in your journey - just starting school, finishing up, or working in the field — you've taken the next steps to living your best life. Take the motivation that helped you reach your 2019 goals into 2020 and start the new decade on the right foot.