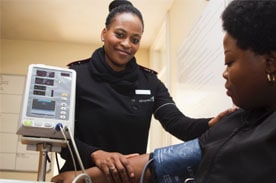 An effective healthcare team is made up of doctors, nurses, and a range of allied health care providers. From physical therapists to medical assistants, allied health professionals deliver essential services to meet the healthcare needs of patients. With the healthcare industry booming, many allied health workers are needed to make sure that every patient gets quality care. And you can help. Whether you've been working in healthcare for quite some time or are just taking the first steps, Penn Foster has a program to help you sharpen your skills.
What is Allied Health?
The term allied health professional describes almost everyone who works in healthcare except for doctors and nurses. These professionals identify, evaluate, and treat diseases and disorders. They also provide essential services like healthcare administration, health systems management, and records management across individual, family, and community health.
Allied health is a high-demand industry due to a rise in the overall demand for healthcare. This rise is caused in part by the aging population and partly because many experienced professionals are reaching retirement age. Qualified workers are needed to fill the gap.
The United States is expected to face a shortage of 40,800 to 104,900 doctors in the next decade. To keep high standards of patient care, demand for allied healthcare workers is expected to rise as well. According to the Bureau of Labor Statistics, healthcare occupations are expected to grow 18 percent by 2026, a much higher rate than the national average.
It's easy to see that now is a great time to pursue a degree or certificate in a healthcare related field. For those already working in healthcare, building industry-specific skills can help you continue to meet the demands of an evolving industry. Or, if you're looking for a new, in-demand career, allied health might be right for you.
Careers in Allied Health
Here are just a few of the allied health career paths you can choose from.
Medical Assistant.
These allied health care workers support physicians, hospitals, and other healthcare facilities by completing administrative and clinical tasks. This versatile career is in high demand with an expected job growth of 29% over the next decade.
Penn Foster's Medical Assistant Degree Online can help you prepare to sit for any of the recognized industry certifications including the Certified Clinical Medical Assistant certificate. When you graduate, you'll receive National Health career Association prep materials and a voucher to cover the cost of the CCMA exam.
Occupational Therapy Aide.
Enhance quality of life for patients by improving their movement and ability to perform everyday tasks. As an occupational therapy aide, you'll have the opportunity to provide direct treatment to patients and perform administrative duties.
While licensing requirements vary by state, Penn Foster's Occupational Therapy Aide Program will introduce you to medical terminology, body systems, adaptive equipment, and therapeutic treatment. It's a great first step toward a career in a high demand industry. The job outlook for occupational therapy aides and assistants is expected to grow 28% by 2026.
Pharmacy Technician.
Certified Pharmacy Technicians support pharmacists to prepare medications and answer patient questions. This booming industry offers many opportunities. Pharmacy technicians can work in retail pharmacies, hospitals, or nursing or assisted living centers.
When you complete the Penn Foster Pharmacy Technician program you'll get a voucher to cover the cost of the Pharmacy Technician Certification Exam (PTCE) or the Exam for the Certification of Pharmacy Technicians (ExCPT). Plus, you'll get a voucher to take the official PTCE practice test.
Dental Assistant.
The demand for dental assistants is expected to grow over 11% in the few years. In some states, dental assistants can earn on average over $50,000 a year. Penn Foster's Dental Assistant training program is a good first step. You'll learn essential skills in dental health procedures and office operations as well as dentistry and medical terminology.
When you complete the program, you'll get a dental assistant exam review guide to help you prepare for the National Entry Level Dental Assistant (NELDA) exam from the Dental Assisting National Board (DANB).
Physical Therapy Aide.
Under the supervision of a physical therapist, physical therapy aides help patients manage pain and retain movement as they recover from injury or illness. Opportunity is everywhere. Physical therapy aides work in hospitals and clinics, schools and nursing homes, sports medicine centers, and many other places.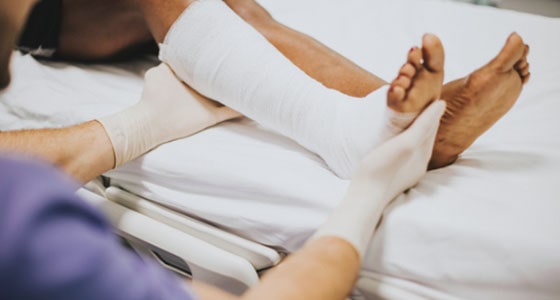 Build Your Skills
If you think you might want to work in allied health, these certificate programs can give you a solid introduction to essential knowledge areas. For professionals already working in the industry, certificate programs can help sharpen your skills so you can keep doing amazing work.
The Health Information Management Certificate will help you gain the foundational knowledge you need to protect patient privacy and safety. Learn to manage information in a healthcare setting. Records and health information jobs are expected to grow at a rate of 13% over the next decade.
Build a strong foundation in allied health with a Medical Terminology Certificate. You'll learn to analyze and interpret medical reports while building your medical vocabulary. It's a great first step toward any allied health career.
Get Started
If you're ready to work toward a new career in the booming allied healthcare field, Penn Foster is here to help. You'll get online access to learning materials, so you can study when and where you want. Plus, you'll get the support of certified instructors, success coaches, support staff and a vibrant student community. Our affordable programs and payment plans put a new career in reach for most students. So what are you waiting for?