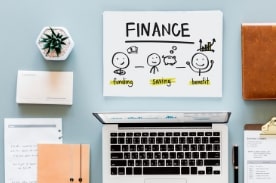 While filing your taxes can sometimes be frustrating, the excitement of receiving your refund can more than make up for it. That bump in your account at the beginning of the year can help you catch up on bills, plan a vacation, or fix your car. It can also help you take the first steps toward investing in your career. The best way to do that is by furthering your education. Here's why.
Your investment can have a positive, long-term impact on your income.
It's no secret that the more education you have, the more opportunities you have. According to the Bureau of Labor Statistics research in 2018, which is updated each year in April, the more you learn, the more you can earn. From finishing your high school diploma to earning a bachelor's degree, each step can allow you to earn more on average. For example, if you graduated from high school, you can earn an average of about $712 per week. If you've completed some education, that weekly amount goes up. Those who earn an associate's degree can potentially see roughly $836 in their paychecks per week.
Over thirty-five years, that income can add up. For example, those who earn an associate's will earn $243,040 more in that time based on these averages.
Besides the potential to earn more money, investing in your education can open up more opportunities to find work.
You're searching for your dream job and maybe you've even applied to a few open positions in the past that you thought were perfect for you. Still, you haven't found the right fit and, with your current education, you feel nervous about applying to some open jobs. You just know you don't meet the qualifications the company is looking for, so why bother?
If you're interested in working in a specific industry such as healthcare, manufacturing, or business, taking a step toward gaining the skills needed to be effective in the role can get your foot in the door. While there are some very specialized industries that require employees to have completed degrees or certification before being hired, many others will often hire current students working toward finishing their education in the field.
Not completely sure what your dream job is yet? There are general programs and degrees that can help you learn useful skills that can be applied to any industry while you find out what you really want to do. Writing professional emails, brushing up on soft skills, or even a better understanding of how businesses work can make an impact on your potential opportunities.
The more you know, the more you can do, and there's data to back that up! In a 2017 survey from the National Center for Education Statistics (NCES), the employment rate for students who completed at least some post-secondary education was 80%. That's 8% higher than those who finished high school only.
If you're interested in a skilled or technical trade, getting certified or licensed can be necessary to beginning an entry-level job—and even qualifying for promotions.
Maybe you're already working in a field you love. You've been on the job for years, you're skilled in the day-to-day work, and you know what you're doing, but you've applied for promotions or managerial opportunities in the past and, despite your excellent record, you've never moved further than an interview.
Often, it's not your work performance or knowledge standing in your way. It's the qualifications you need to have on paper that are stalling your career. Investing in courses that can prepare you to sit for state and national certification exams, or that can help you recertify, cannot only show your commitment to rising up at work, it can also help you become even better at your current role. It's a win/win!
Furthering your education can also have an amazing impact on your self-esteem.
Think about how you feel whenever you finish something and you know you've done an amazing job. That feeling of accomplishment is so powerful. You feel like you can do anything you set your mind to. But that feeling, unfortunately, can fade far too quickly.
Accomplishing something big, like finishing your high school diploma, earning a college degree, or just completing a class that scared you in the past can help that feeling stick around. The more you feel you know, the more prepared you are, the more confident you'll be. That confidence will be obvious to everyone else, too!
If you act confident, if you are confident, people will believe in you even more than they do now.
You can do anything you set your mind to, and do it around your schedule.
You're thinking, maybe, that all of these are great statistics but that this doesn't apply to you. You may also be thinking that tuition isn't reasonable for you on your current salary. But, have you considered putting your tax refund toward your education? With flexible, affordable payment plans, Penn Foster is here to help you take the first step toward boosting your resume or preparing for a new career you love. There's no better time than now to invest in yourself!