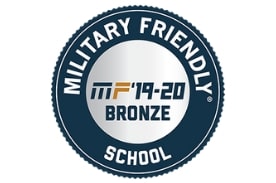 We're proud to serve those who've served.
As a veteran or current member of the United States Military, you've dedicated your time, passion, and career to serve your country. We couldn't be more proud or grateful for the work you've done and continue to do every day. You've selflessly given everything you have to make sure we're safe and now it's time to think more about you. That means furthering your education to go back into the workforce or start a new career and, when you're using military benefits, you want to ensure the school you go to fits your needs.
At Penn Foster, we're devoted to serving the veterans, military members, and spouses who want to use their education benefits to build a new career around their schedule. That's why we're excited to share that we've been granted bronze Military Friendly status for 2019-2020! Here's what that means for you!
What does "Military Friendly" mean?
Military Friendly is "the standard that measures an organization's commitment, effort, and success in creating sustainable and meaningful opportunity for the military community." The Military Friendly survey, which measures organizations on three key components, is the longest running review of school's investments in education military and veteran students. Each year, the company surveys and compiles data on schools and companies that serve our military and then makes that information available to the public.
Why does Penn Foster's Military Friendly status matter?
If you're a veteran or a current service member of the military looking to use education benefits to further your education, you want to make sure you get the most out of your school. You want to feel secure that the benefits you're using to pursue a new career won't go to waste.
For more than 90 years, Penn Foster has supported and worked with the men and women who serve our country. With no concrete due dates for exams or projects and the flexibility to work on your studies whenever you can, wherever you are in the world, the pressure is off for busy military members and their families. Being designated as a bronze Military Friendly school for the second year in a row lets you know that we live up to the strict standards required to earn that honor.
Schools are rated on 6 different categories to determine their level of Military Friendliness:
Academic Policies and Compliance
Admissions and Orientation
Culture and Commitment
Financial Aid and Assistance
Graduation and Career
Military Student Support and Retention
In each category, Penn Foster exceeds standards.
Penn Foster can serve you while you're serving your country — and after.
At Penn Foster, we're determined to help students pursue their career dreams through education that allows them to work at their own pace, around their own schedule because we know that you can't pause your current job to study. Whether you're a veteran looking for a new career path, a spouse trying to work toward a new career while travelling constantly, or a current military professional, there's a program for you. If you're not sure how to make your military education benefits work for you or want to understand more about how our programs can fit your life, call in to our dedicated VA Team who are experts on helping military personnel get a new start at 1.800.275.4410.