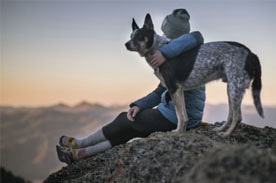 One Year Career Programs
If you're going into 2019 with plans for a new you in the new year, you might be wondering what kind of change you can really make in 12 months or less. The answer is: a big one and Penn Foster is here to help. Here are 9 programs you can start and finish in 2019:
Dog Obedience Trainer/Instructor
People love their pets. If you do too, you might want to earn a career diploma in dog obedience. Prepare to work for a dog obedience training facility or pet store, or get ready to run your own dog obedience classes. You'll begin to understand how dogs learn and get some insight into how to teach them. Gain knowledge about puppies, dog breeds, and basic veterinary issues. Finally, get an inside look at the dog training business to help get you started on the right paw.
Bonus: Interested in holistic health care? Then the pet care certificate program might be just what you've been looking for. Learn about holistic pet care, natural remedies, and rehabilitation therapies. You'll also build an understanding of animal massage, psychology, and aromatherapy.
Career Readiness Bootcamp
Hiring managers are looking for candidates with soft skills. Give them what they want with Career Readiness Bootcamp. These courses build communication, professionalism, teamwork, and other soft skills essential for the modern workplace. You'll be more prepared for the workforce and your job search might even get easier.
Retail Industry Fundamentals
The retail industry is booming. Stand out from the crowd with Retail Industry Fundamentals. You'll get 10 lessons developed by the National Retail Foundation and leading retailers. Learn the foundational knowledge that can help you advance your career in retail. This could be your stepping stone to a leadership role as a retail supervisor or manager.
Caterer
How do you learn culinary skills online? With hands-on cooking labs. Learn the fundamentals of cooking and the essentials of different food groups, then test your knowledge with video labs that guide you to cook delicious meals in your own kitchen. You'll also learn about catered events, beverages, table service, and the different jobs available for culinary professionals.
Gourmet Cooking
Learn to cook while you prepare to take the National Restaurant Association ServSafe Food Handler online training course and certification exam. The gourmet cooking certificate is more than an online cooking class. You'll learn the fundamentals of gourmet cooking with hands-on video labs. Find out if a culinary career is right for you, and impress friends and family in the process. Plus, get a voucher to take the NRA exam at no extra cost.
Medical Billing and Coding
Prepare to sit for professional exams that can make you a Certified Medical Billing and Coding professional. In as few as 10 months, this regionally and nationally accredited program can get you ready for:
Your tuition even includes a voucher that covers the cost of the CBCS exam!
As you prepare for this in-demand role, you'll learn about confidentiality, electronic medical records, and medical coding; as well as basic pathology, pharmacology, and medical terminology.
Virtual Assistant
If you like the idea of working from home but prefer keeping things organized to writing storylines, you might want to explore the Virtual Assistant Program. Virtual assistants support business owners by providing administrative services, but they do it from their home office. With flexible work schedules and plenty of opportunities, now is a great time to launch a new career as a virtual assistant. Learn about setting up a VA business, managing time and clients, and working as a contractor. Plus, get an inside look at the tools that VA's use in their everyday work.
Small Business Management
Whether you already have a small business or are ready to start one, the Small Business Management Career Diploma might be for you. In as few as three months, you can start building skills to step toward independently running your own business.
Learn the ins and outs of small business management from market research to financing and budgets. With these skills you'll be well on your way to starting the small business you've always wanted. You'll end the program by creating a business plan to start your business right.
Why Penn Foster?
Every Penn Foster program is self-paced and available online. In most cases, you can study when and where you want. There's no need to travel to a class.
Studying at your own pace doesn't mean you're on your own. You'll get instructional support from our experienced faculty and 24/7 access to the Penn Foster Student Community of students and alumni. From chat and texting to emails and phone calls, we're here for you: We call it surround sound support.
Work at your own pace with lessons that are ready when you are. Contact Penn Foster to get started today and finish your program before the end of the year.