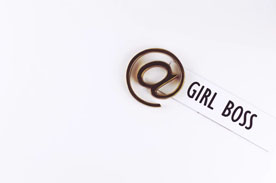 You can move up, but it takes work.
Women make up 47.5% of the working population in America, but only hold one-third of the available positions in manufacturing compared to men. In other male-dominated industries, such as skilled trades or technology, less than 25% of the workforce is female. Though more and more women are entering trades, manufacturing, and technology jobs, it can still be tough to imagine yourself as a future boss in your company when all you see are male leaders. But, just like the men you work alongside, it's possible to grow your career and work your way up. Here's how to rise up as a woman in a currently male-dominated industry.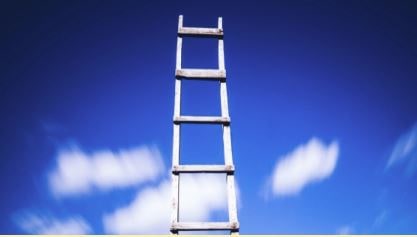 Don't let stereotypes keep you down.
No matter how you define yourself, everyone — male, female, or any other label — will deal with being stereotyped at some point in their career. As a woman, you may face "positive" labels, such as being cast as the caring "mother" of the workplace or you deal with being considered an "outsider" threatening the normal day-to-day relationships of male coworkers on a regular basis. If you're a man working in a traditionally female industry, you'll deal with the same sort of stereotypes. These stereotypes can act as a roadblock to your career success because, not only do they chip away at your confidence, they often force you to use coping methods that can affect your performance and how others view you.
Fighting the negative feelings that come up when you're stereotyped and given a label or a certain box to fit in could be a daily challenge for you. In work, though, and in life, you know that you need to pick your battles wisely. This is especially true if you're interested in building a career at your current workplace. Keep your cool and decide when and how to challenge stereotypes at the appropriate moment. You can turn the tide of negative labels in your workplace by considering the most effective moment and method of breaking down the barriers. Coworkers and management are often more impressed by someone who can keep their cool in a bad situation.
(Disclaimer: "Keeping your cool" doesn't mean sitting back and keeping quiet against prejudice or any other inappropriate workplace issues. It means being calm and collected and taking the time to deal with these issues through the proper work channels, like HR.)
No matter what stereotypes you're facing in the workplace, if you're being passed up for promotion or new positions, be more direct with management about your career goals. Request time to sit down with management and talk about available opportunities and what you can do to be a leader in your company.
Take ownership of team building.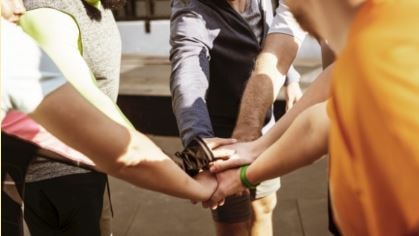 A huge part of being on a team, even when you're working in an industry that doesn't typically have workers who are like you, is building relationships. Not everyone wants to be best friends with their coworkers, and that's okay! But if you're looking to rise up in your field and be a leader in the industry you're in, taking part in social events or bonding moments is important. If you're distancing yourself from the people you work with, they and management may you see you as cold and uncaring. You could complete your work perfectly and still be passed over for a leadership position because you don't have the "right personality" to lead a team.
Engage with your coworkers, attend after-work events, and even considering planning one or two yourself. You don't have to be the most outgoing person there, but making an effort to know the people you work with shows that you actually care. Besides gaining friends in your workplace, this can help you challenge those stereotypes we talked about earlier. When they're your friend, they see you differently.
One key piece of advice when attempting to build relationships with your coworkers is that you should do it from a genuine interest in knowing who they are. When you're networking with others, it's easy to spot the people who are speaking to you because they think you can get them something they want. Be authentic, be yourself, and be open to new friendships at work.
Be confident in your abilities.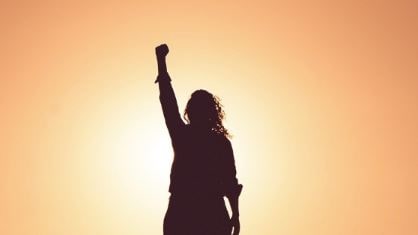 Your experience in the industry has taught you the skills that make you a top employee. You know the ins and outs of your job, and you may even know how to do everyone else's jobs, too. But, when it's time to apply for an open leadership position, you may worry that your skills aren't enough when you're competing with your male coworkers. Don't!
That's easier said than done when you're a minority at work. When you're ambitious and are looking to get promoted, though, that lack of confidence, not speaking up when you find solutions or even simply not being direct and transparent about your career aspirations can hurt your chances of being seen as leadership material.
Remind yourself of the things you've accomplished. Walk tall, because you know you have what it takes to lead. Force yourself to speak up when you notice problems or you have an idea that could positively make an impact on the work your company does. If you're confident in your abilities, others will be too. Give yourself a seat at the table by talking directly, yet politely, to your manager about your goals. Schedule time once a month to discuss with management your progress and keep coming to that table with specifics on what projects you want to work on or what resources you need to be a better employee.
Take ownership of your successes.
Employers value team members whose work is innovative, successful, or who learns to recover from or learn from unsuccessful projects. Your manager is your greatest cheerleader; they'll love knowing about your latest solution to the team's issues. Walk the line between bragging and owning your accomplishments by keeping the focus on the benefit to the business and thanking those who helped you identify or fix the issue.
Keep your skills sharp by furthering your education.
Staying up to date with the latest information and techniques in your field can give you an edge over others when you're applying for a promotion at work. It can also show management that you're committed to being the best at what you do. Get a resume boost, refresh your skills, and learn new ones to make sure that you've got the qualifications managers are looking for when they are hiring leaders internally — and make sure people know about it! It's not just enough to silently work on your skills but casually mention to your coworkers the things you are reading, the skills you are learning, and the new tools you are qualified to use so that you share what you've learned. After all, that's what leaders do!
Furthering your education could be as simple as a short skills focused course like Career Readiness Bootcamp, which can help you understand the soft skills that go into making a successful leader. If you're looking to get industry-specific, pursuing a degree program like an Associate's in Industrial Supervision or Manufacturing can help you learn leadership techniques while covering the newest technology and developments in the field.
Ask for things directly.
As they say, the squeaky wheel gets the oil. If you never ask for a raise, promotion, or new project, your manager may never know you are ready to take the next step. You may feel beating around the bush is a humble way to let your work speak for you but managers are busy with their own career goals, the goals of your peers, and the goals of the company. It's likely that the person who has last asked will be thought of first. Set up one-on-one time to lay a ground work of your successes and ask directly to be given the opportunity.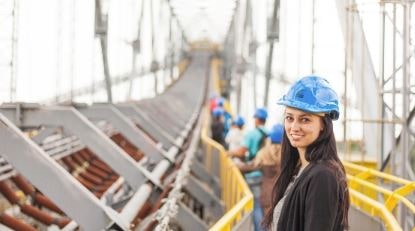 Rise up with Penn Foster.
You're already strong and determined. After all, you decide to defy the "norms" and build a career in a field that most people assume only men are interested in. With Penn Foster's flexible, online courses in skilled trades, you can prepare to build up your career and rise through the ranks in your industry all on your schedule.
Develop your network of peers and mentors. Students at Penn Foster have access to career coaches, instructors, and thousands of student peers who can help you to focus on your goals, lend a sympathetic ear, or offer advice in challenging situations. You are not alone in your quest to move up in your industry and you don't have to be! Reach out and start to benefit from the success and advice of others today.