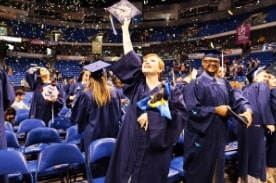 Penn Foster's Biggest Graduation Yet!
When you take courses at an online school, you might wonder if you'll have the chance to celebrate graduating from your program like students at traditional schools do. Walking across the stage gives you the opportunity to close a big chapter in your life. That's why we think it's so important to hold a ceremony near our headquarters in Pennsylvania! Each year, the event gets bigger and we get to meet more students and graduates like you. It's the best day of the year here at Penn Foster! Whether you attended the ceremony on June 1, 2019 and want to relive your favorite moments, weren't able to make it, or you're a new student curious about what it's like, check out our top 2019 graduation highlights.
There were over 700 Penn Foster graduates in attendance.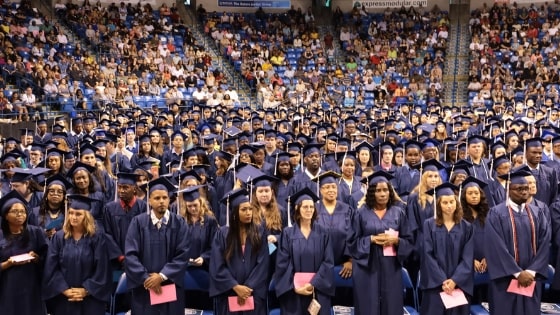 Graduates across Penn Foster high school, college, and career schools celebrated this momentous occasion together, with over 700 people walking the stage in 2019. Family and friends — over 3,000 of them — cheered their grads on from the stands.We couldn't be more proud of you all!
Grads got creative with some AMAZINGLY decorated caps!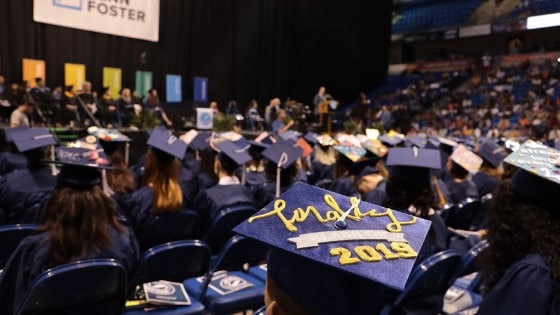 Decorating grad caps is big these days, and the creativity of our grads did not disappoint! From caps that summed up how happy you were to finally be finished with this chapter of your education, to decorations that gave a shout out to the loved ones who help you get here, your talents shone bright.
If you celebrated your graduation at home and decorated your cap, we want to see your work! Don't forget to share on social media with the hashtag #PFGrad2019.
New friendships were built in line for procession.
With students from across the nation, coming from as far as Seattle, Washington or as close as right here in Scranton, PA, you'd think everyone would keep to themselves. But while waiting for the procession to start, many of you formed new friendships, congratulating each other, helping each other stay pumped for the ceremony, and even giving impromptu motivational speeches in the hall!
You heard some motivational speeches from our speakers.
At Penn Foster, students and graduates are constantly looking toward the future. What can you accomplish after graduation? What goals will you reach with your new education? This year, our speakers shared the same thought. "The future," said Mark Slayton, Senior Vice President of Student Success, "is yours for the taking."
With the confidence you rightfully earned after studying hard and walking the stage, you know you can do anything you set your mind to. You're a perfect example of how pushing forward and dreaming big can work. Keynote speaker, Dr. Dionna Hancock-Johnson, said that you should "never take a day off from accomplishing your dreams," so whether you're still working to finish your program or you're starting the job search, your constant work can pay off in the end!
"The graduates here are proof that if you give people the chance to take control of their future, they can do some incredible things," Penn Foster CEO, Frank Britt, shared. You're proof that we can all take charge of the direction of our careers, our lives, and more.
You inspired Penn Foster faculty and staff.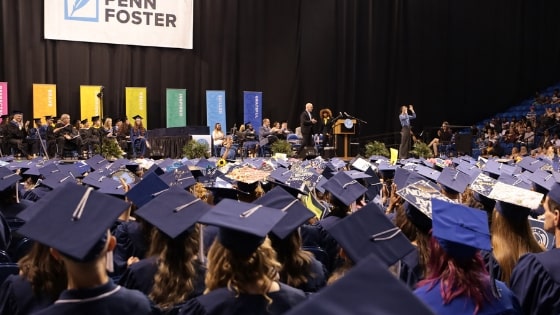 Graduation is our favorite day of the year and it's all because we get to share your big moment with you. We're proud of the work you've done to get where you are and hearing your stories and sharing your cheers and happy tears with you is what motivates us to keep working hard to make your education the best it can be.
You inspired other students to reach their goals.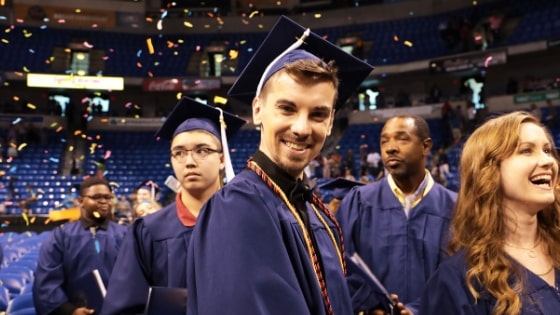 You've worked hard to take your next step toward the future and it shows. Besides getting a chance to celebrate the work you've put in to reach this day, every one of you inspires the students who come after you. Watching the live video of the event on Facebook or even checking out the thousands of photos from the day, along with your stories in interviews and social media posts, gives others the hope and confidence they need to get where you are now.
H4: We're #PFProud to celebrate YOU.
If you're just starting your Penn Foster journey, or you just finished it by walking across the stage this year, your achievements, motivation, and drive are worth celebrating. What you've done is a BIG deal and you deserve to be proud of yourself. We're more #PFproud of each one of you every graduation ceremony and we can't wait to see what next year will bring!