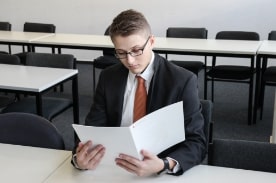 What happens after an interview?
You've interviewed at a company you're really hoping to work for and you know you did great. You had an awesome conversation with the hiring manager, your resume and references were all in order and it seemed like you were already part of the company. Everything is falling into place. A day passes, five days go by, and you still haven't heard anything, and you're starting to worry: are you ever going to hear back? Should you move on and start following up with other job opportunities or is it worth reaching out to the hiring manager to get an update? Here's what to do when you don't hear back after an interview.
Did the person you interviewed with give you a timeframe?
Before doing anything else, take a second to remember whether or not the hiring manager you spoke with gave you an idea of when you should expect to hear back. Often, companies will let you know at the end of the interview how long their interview process is and when applicants should hear back, whether or not they got the job. If your interviewer gave you a time, say something like "you'll hear from us within two weeks", then don't reach out until that time has passed. If it's been longer than the expected deadline, move on to your next steps.
Follow up with an email.
Hiring managers are human, so they're going to make mistakes occasionally or forget to follow up. It happens! Give it a day or two after the time you expected to hear back, then send them a polite note. This email would be in addition to the thank you note you should have sent right after the interview! Keep in mind, you shouldn't use that same email thread as that thank you note to write a new email to the interviewer. You should start a new, clear communication that you're looking for updates.. When writing your follow up email, stay professional and cheerful. A good follow up email could look something like this:
Subject Line: Following Up Regarding Interview on DATE
Hello Hiring Manager,
I'm following up regarding (THE POSITION) I interviewed for on (DATE). I'm very interested in working for your company and what I learned during our interview only has me even more eager to hear about next steps.
Do you have any updates you can share with me about my being considered for the position? I appreciate any information you can offer and look forward to hearing from you.
Thank you,
(FIRST NAME LAST NAME)
You want to keep the email short and to the point, as well as avoiding any language that can seem passive aggressive or blaming. For example, don't say something like, "You told me you would let me know if I got the job in two weeks and it's been longer than that. I want to know if I got the job." The hiring manager may have been about to offer you the position, but after receiving an email like that, may reconsider. Remember, even if you don't get the exact job you applied for, many companies will keep your resume on hand for future openings so it's important to keep all communications professional and polite.
Give them a call.
You've sent your email, but still haven't heard anything. Does this mean you didn't get the job? Are they ignoring you? Instead of thinking negatively, consider that they may be busy. Maybe they have an inbox so full of emails that it takes a day or two to get back to people. It doesn't hurt to give the person who interviewed you a quick call to check in. You should have their phone number if they gave you a business card or you can reach out to the company's main number.
If you get them on the phone, be brief and polite. You also want to remind them who you are and mention why you're calling right away. If the hiring manager has an update, they'll let you know.
If you get their voicemail, don't just hang up! Leave a message. Same as above, it should be short, polite, and include what you're specifically calling about. Don't forget to leave your phone number on the message! They have your resume but if they have to dig through a stack of applications to find your phone number, they might not call back right away.
Don't email and call non-stop.
As enthusiastic you are about the position and working for the company, if you don't hear back after the email and voicemail you left, emailing and calling a bunch of times until they respond is not the way to go. If they didn't answer the first few calls and emails, piling more on will make you seem desperate and unprofessional. While it's definitely frustrating not to get a reply when something is so important to you, it's also important to know when to move on. There are other opportunities out there, so if you tried to follow up a few times and have gotten nothing back, it's not the end of your career.
For some more skilled positions, interview processes can take a while. Even though you might be ready to jump into the position ASAP, the company may need a bit of time to make sure they are filling the role with the right person.
Don't take it personally.
It's polite and professional to let job candidates know if they got the position or not and within a reasonable timeframe. But sometimes, that doesn't happen and it's time to cut your losses. You can't take the rejection personally. There are a million different reasons why you may not have been chosen for this role and trying to figure those out will only drive you crazy. It could be anything, so instead, reflect on what you did in the interview. Review your resume and your cover letter to see what improvements you can make. Take the time to learn from the experience and apply what you learned to your next interview.
Sharpen your skills.
While you're on the hunt for a new career, rejection or even just silence can make you feel like you don't have what it takes. That's not true! But, sometimes, hiring managers may be looking for candidates with skills you don't have yet, and that's okay. In fact, that's great because there's something you can do to fix that. Whether that means pursuing a degree in the field you're interested in or polishing your resume with certificates, learning new skills can make a difference. From gaining soft skills through the Career Readiness Bootcamp Program, to training for a trade with a career diploma, the more you know, the more confidence you bring to an interview and your future employer.