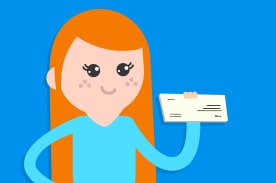 Can you save and invest on a small budget?
You've filed your tax return and you're waiting for the refund to pop into your account. You've got plans for that extra money, and you know how and where to put it to the best use. There are bills that need to be paid, your car needs a new part, and you're hoping to get something special for the family. After everything you've got planned is taken care of, it seems as if all of your refund is gone before it's even deposited into your account. While that money at the beginning of the year helps you get ahead on your bills and necessities, by summer it seems like you're playing catch up again. Instead of counting down the days until next tax season, here are a few easy, doable money saving tips for any budget.
A little goes a long way.
Saving and investing money can be stressful if you don't set realistic expectations. When articles and how-to guides tell you that you should have at least "this much" in your account at all times, you might worry because it's just not possible for you to set aside a large amount every month. But, a little goes a long way. You don't need to save half of each paycheck to build up a safety net. Here are some small ways to save a little bit at a time.
Do some simple math. How much is your take home pay per month, and, if you split your expenses with a spouse or partner, how much do they take home per month? Once you have that number, go through all your monthly expenses, starting with necessary spending like rent, utilities, groceries, etc. What you have left is a more accurate idea of how much "extra" money you have to work with per month.

Evaluate what you're spending your "extra" money on each month. Subscription services are a beautiful thing, but they can be dangerous to your budget. Make a list of the services and products you're paying for each month. Do you need four different video streaming services? Cancel the ones you don't use as much to make room for the ones you love. Even if you only end up cutting out one of your subscriptions, that's still saving something.

Use your library card. If you don't have one, sign up for one. Public libraries offer more than books these days, so you can actually save a bit by using them more frequently. Depending on what services your library offers, you can borrow movies, shows, magazines, and even sign up for digital services and borrow ebooks and audiobooks. Other perks? Local libraries often throw events and fun community gatherings that can be a cheap night out.

Don't lose your spare change. Pennies can be annoying. They clutter your wallet, purse, or the cup holders in your car and, by themselves, they don't really get you much. But you can literally make every penny count by throwing them in a dedicated change jar. At the end of the day, empty out the coins littering your coat pockets and throw them in jar.

After a while, it becomes a habit and, depending on how much loose change you have hanging around, you can have a little extra saved each month. Since it's money you probably wouldn't have used anyway, deposit that change into a savings account. Whether it adds up to $5 or $50, it's the foundation for a sturdy savings.

Use cash for everyday purchases. Debit and credit cards are so convenient that most people don't use cash that often. However, when you're paying for items with a card, you're less likely to think about how much you're spending. When you use cash, you're more aware of how much you're spending and it's a bit easier to stick to your budget and prevent overspending. Additionally, you'll have spare change you can throw in your jar at the end of the day. If also helps to give yourself a weekly "allowance." Considering how much you need for bills versus how much you have for everyday spending and set reasonable expectations. Do you need $100 in cash every week or $50? Try to stick to that as closely as possible!
Trick yourself into saving.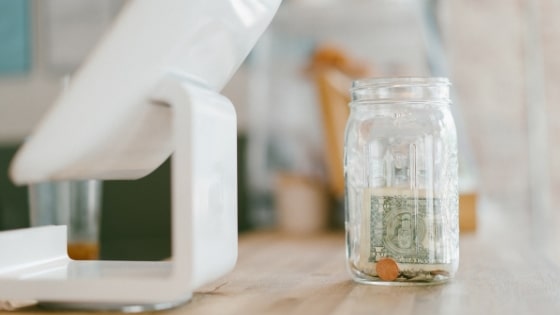 When you're using as much of every paycheck as possible to take care of your bills, family, and have some fun, too, your paycheck can go a lot quicker than you expect it to. That's why "tricking" yourself into saving can help. Again, you don't have to put aside a huge sum every paycheck; a dollar a day will make a difference. How can you make sure you save without having to put in effort that might cause you to redirect those funds each paycheck? A few automatic deductions could help.
If you work for an employer that offers benefits like a 401K, use them! Retirement plans can be a bit intimidating. How do they work? How do you set them up? Don't let a bit of fear prevent you from taking advantage of something like this, though. Most employers who offer 401K plans can help you set it up when you start, and usually match your contribution. So, say you decide to automatically put 2% of your paycheck for your retirement plan. If you make $800 biweekly on that plan, you'll be missing about $16 per paycheck. That's $32 per month. AND, that's without considering any money that your employer matches! When it's taken out of your pay automatically, you'll eventually forget that you're missing it. The money will be in a safe place for retirement, or in case you need it, though there can be penalties for taking out of your 401K before you're retired.

Set up your direct deposit so that a small percentage of your paycheck is automatically deposited to a savings account. The best thing about having the money automatically deposited into a savings account is that you don't have to go out of your way to remember to do it yourself. Additionally, it doesn't have to be a lot! You can have 2% deposited each check, and you'll slowly build up a savings you can rely on for the "just in case" moments that happen in life.
Make practical investments.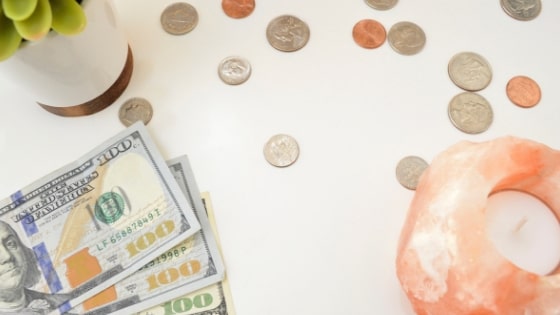 The word "investment" probably makes you think of bankers, the stock market, or even real estate. We often think of investing as items or actions that we won't reap the benefits of for years and years to come. But practical investments that are pretty simple to introduce to your life can help you save, and even grow, your money in the future. Here are a few ideas.
Purchasing a good crockpot can save you money on family meals. While a crockpot, or slow cooker, can cost about $25 minimum, the money you spend there can save you in the long run. Think about it: when you're extra busy, tired, or just don't feel like cooking a meal, you end up getting takeout or fast food. Those options cost more because of convenience and service. The benefit of a slow cooker is that, no matter how jam-packed your day is, you almost always have a few minutes to throw something in the pot before starting your day. You can have a meal ready to go by the time you get home, no fuss. And, you can even have leftovers that can be repurposed throughout the week for lunch.

Investing in sturdy tools that can be used for everyday repairs. Whether you're an experienced handyperson or you know a thing or two about simple repairs, having a good tool set at home can help you save on minor repairs in the long run. Little things like replacing door knobs, tightening screws, and more can be costly if you have to call out to a repairman. Besides saving money on bills for work done in the home, there's a feeling of accomplishment when you take care of something yourself.

Further your education and develop new skills. You may already be working in an industry you love or you're still searching for that dream job. Either way, furthering your education can be an investment that ends up going a long way. If you love the job you're doing now, taking a certificate program to refresh your current skill set or help you pick up some new leadership skills can give you a boost when you're applying for a promotion. Not in your dream job yet? Browse through over 150 online programs to help you pinpoint the career that seems the most interesting to you.
Saving and investing in your future doesn't have to be scary.
There's a lot of advice out there about saving money, budgeting, and making big investments to secure your future. That advice usually sticks to a "go big or go home" kind of mindset. "You need to spend a lot of money to make a lot of money," is something else you might hear. But saving can be done in a way that works for you and you can invest in your future with affordable, flexible options. At Penn Foster, you can make a practical investment that can have a big impact in the long run. With customized payment options for students of all income levels, you can feel confident that you can make your education work.