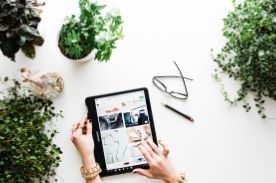 Prepare to make 2020 your best year yet with our Black Friday guide.
Amazon rolled out a majority of its deals starting in the beginning of November, creating a whole cyber month, extending the big shopping days following Thanksgiving. Shopping online in advance gives us more time to reflect and be grateful at the table Thursday with family and friends, before rushing off to department stores to buy presents for Christmas morning. But sweaters, hit sneakers, and coveted toys aren't the only way to make the most of this shopping holiday, here's our list of Black Friday purchases that can set you up to make 2020 the best year of your life!
Hit the gym with discount memberships.
At Penn Foster, you're flexing that brain muscle but living your best life means taking care of your mind AND your body. Did you know that exercise can help you relieve stress, clear your mind, and think through challenging mental roadblocks? Bonus: most gyms offer child care services so you can teach your children about the importance of balance while you workout.
Build new skills.
Santa isn't checking his list twice for an education that will help you launch your next best career, but look out for online universities and career schools that may have single-courses for sale to help you build specific, intentional skills like communication, Microsoft Excel, photography, writing, and more with individual college courses! Using this season of discount to help set you up to earn more money in future careers is a win/win!
Plan for 2020.
Sure, daily planners are likely not breaking the bank but when every penny counts, get all the discounts you can! Setting a daily schedule or plan can help you to be more productive with your time and get you on the way to achieving your goals faster! This year, get a planner, be a planner.
Upgrade your basics.
You're hyper-focused on getting your certification, diploma, or skills mastery and so self-care can take a backseat. Don't discount your own needs; get back to basics because when you're looking good and feeling good, you're more productive.
Sign up for new goals.
Ever want to run a 5k, Spartan Race, climb a mountain, sail the seas? Cure your lust for adventure by looking for deals that can help you set an intention, reach your goals, or become a member of an outdoors club. Support your local community and get involved in challenging goals to help you live your best life!
Travel the world or the country.
In today's Instagramable world, travel envy is hard to avoid. Taking yourself on an international adventure may seem out of reach but look for travel deals this week: you may find the destination of your dreams for much less than you expected.
Head into 2020 with the tools you need to live your best life
So, this extended holiday weekend, shop for things that set you up to live your best life in 2020 — whether that's improving your organization, your study habits, your workout regiment, or taking a break to get outdoors!