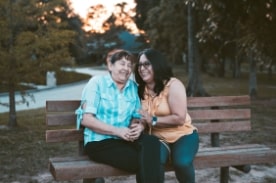 Take care of your family and pursue your dreams.
As a kid, the idea that you'll have to take care of your parents — or grandparents — when they get older or ill seems far away. They're the strongest people you know, after all. But it's a fact of life that everyone gets older, things happen, and, eventually, you'll "switch places" with your parents — helping and caring for them just as they did for you. You don't resent having to do it; you love them. When you're already juggling work, your own growing family, and trying to further your education, though, it can feel like you have too much on your plate. Something has to go on the back burner, and that something often ends up being you. It's not easy to balance everything in your life; it's hard work, actually! But you don't have to give up on reaching your goals. Here's how you can take care of your family and pursue your dreams without sacrificing either.
Remember, you're not alone.
Before doing anything else, it's important to remember that you're not alone in having to be a caregiver, worker, parent, and everything else you are. As many as 42% of workers in the United States have been tasked with caring for aging or sick family members — while still doing everything else that's expected of them.
That doesn't necessarily make your life easier. Just because other people are dealing with the same issues on a regular basis doesn't mean it'll change how stressed you are about everything. But it does mean that there are others out there who not only understand what you're doing and have been there, but who can also provide guidance. Whether that's through your real-life friends, connections on social media and networking sites, or through internet research, there are resources out there to help you! Even further, if you want to be the best possible caregiver you can be and are searching for a how-to-guide, our online Personal Caregiver Skills Certificate could help you develop your confidence as your family members care person.
Understand it's okay to ask for help.
You want to be strong and independent. You want to control your life and when you add an ill or aging family member's care to everything you have going on, it feels as if you have no choice but to take care of everything by yourself. You want to prove that you can do it all.
But, while you can do almost anything you set your mind to, juggling all of your responsibilities and going for your goals alone will get exhausting and you'll find yourself forced to let something go. You don't have to go it alone. If you're struggling to stay above water with your workload, taking care of everyone, and studying, asking for help early on will save you stress down the road.
Here's where making a list can come in handy, too. Write down what you need to do each day as a caregiver, even the small tasks that you do without much thought. Then, consider what only you could do. Are there chores and tasks that others in your family can help with, even just occasionally? Ask them! You're all in this together, so getting help cooking dinner one day so you have time to study or just breathe is something that won't be a problem.
If you're worried your work schedule is being affected by everything you have going on in your life, or you have to take time off to go to a doctor's appointment, knowing you have your boss's support can make a difference. They can't support or help you, though, if they don't know what's going on. Taking the time to give your manager a heads up — if you have a good working relationship — can go a long way in easing your worries, and ensuring you have the time you need.
Learn to be as organized as possible.
Maybe you're a naturally organized person. You keep a detailed calendar that you update with important things you need to remember. You have to-do lists, habits to ensure you never miss anything, and reminders in your phone. Nothing is out of place.
You may also be the kind of person who thrives in "organized" chaos and finds a small amount of stress to be motivational. You've never really spent time on to-do lists, schedules, or organization because you haven't had to before.
Whichever person you are, when you take on caring for an older or sick parent or relative every day, it can throw your business-as-usual routine out of sync, making it tough to stay on track. Things can start to snowball, and after a while, it seems just... easier... to give up on going back to school. It doesn't have to be the only option, though. That's where learning to fine-tune how you organize your life comes in. Try a few things like
Having a detailed calendar in your home that breaks down what appointments, tasks, or work needs to be done that day.
Using the reminder and notes functions of your phone to alert you when something is coming up - you have your phone with you all the time, so it's almost impossible to not get a notification.
Keeping detailed to-do lists for work, school, and your family separate. That way, you can try your best to "compartmentalize" everything - when you're caring for your loved one, you don't focus on work; when you're working on your studies, you focus on that.
If you can effectively organize what needs to be done, managing your time between everything becomes easier. Still not sure how to learn time-management skills? Our Student Life Blog has some helpful posts with time management tips and tricks like "How to Find Time to Fit Your Studies Into Your Life" and "Build Time Management Skills That Last."
How online school can give you different options to reach your goals.
Finding out you'll need to take care of an older parent or relative means your plans to go back to school to start working toward a new career might need to be put on hold. At least, that's what it feels like. You have to earn a regular paycheck, so you work full-time. Spending time with your family is a must and there's no time left over to commute to a local school to attend regular classes.
It feels like, at least for now, you need to figure out how to be happy with where you are in your career. But it doesn't have to be. With online classes that allow you to study and take exams when you have time, taking the steps to make your job dreams real life is entirely possible.
Penn Foster's online career programs and college degrees have no set class schedules, meaning you can log in whenever you have a free second or two. You can also take your studies with you wherever you go, using the extra time while waiting for a bus, or on a lunch break, to catch up on coursework. You can also take your time working through your studies, especially when things come up at work or with your family. You won't be penalized by missing "due dates."
You'll also be able to connect with other students 24/7 on the Penn Foster Student Community! If you're making progress on your lessons on a Saturday night but get stuck, you have a resource you can use for advice from others who've gone through it before you.
Find the right balance for you with Penn Foster.
Being a caregiver doesn't mean that you have to give up your other goals and plans. In fact, making moves to improve your job prospects and how much you can potentially earn could help your family out in the long run. But finding a way to balance everything in your life when attending a regular school with a set schedule might be a bit difficult. That's where Penn Foster's online courses, from career programs to college degrees — or even earning your high school diploma — can help you make time for your goals and your responsibilities. Find out more from one of our dedicated Admissions Specialists today at 1-888-427-6500.