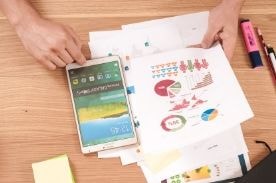 Often, diplomas, degrees, and certificates are a necessary addition to your resume if you're pursuing a career in a specific field. Even better, studies and data have shown that the higher your education level, the more money you're likely to earn over your lifetime. While many assume earning a bachelor's degree is the only way to go, earning an associate degree can be a better fit for your needs and goals. Associate degrees are shorter programs that focus on career-specific coursework that can help you prepare to find a job love. Here's what you should know about the value of an associate degree and why it could be the best investment in your education.
3 reasons an associate degree is a good investment
While any type of learning can build out your resume or help you gain new skills and knowledge, for those who do want to work toward a career that requires a college degree, an associate degree can be a good investment.
The average cost of an associate degree is lower. On average, the cost to attend a two-year college is about $10,598 per year for a total of $21,196. Public four-year colleges can cost anywhere between $30,000 and $100,000 for the entire program. That's a big difference! The cost alone can often make an associate degree seem like the better route, especially when you can start a career after graduation. Online degree programs, like Penn Foster's Veterinary Technician Associate Degree, can be even more affordable, with a total cost of around $6,684 - which can be paid in monthly installments as low as $59 per month in the first semester.

With an associate degree, you're likely to make more than someone with only a high school diploma. The higher your education level, the more likely you are to make a higher starting salary. Depending on the program you study and the field you work in, those with an associate degree can earn an average salary of $41,496 per year. And those with an associate degree also have a much lower average unemployment rate - 2.7% were unemployed in 2019 compared to 3.7% of high school graduates.

An associate degree can pay for itself. The cost of an associate degree is lower, especially with an online college like Penn Foster. With that being said, the potential yearly salary for those with this kind of degree is nearly 5 times more than what you paid for your education.
How an associate degree can benefit you
Besides paying less for your education and earning a decent starting salary, there are other benefits to earning an associate degree — especially when you choose an online program! Other benefits include:
Being able to complete career-focused coursework
Earning credits that can be applied to a four-year degree
Earning your degree in a shorter time frame
Take the next step toward building your career with Penn Foster
With Penn Foster's online, flexible, and affordable associate degrees, you can take the next steps toward a career you love - from home! Develop new skills on your schedule and start learning when you're ready! For more information about our associate degrees and deciding which program is the best fit for your goals, reach out to our expert Admissions Specialists at 1-888-427-6500.