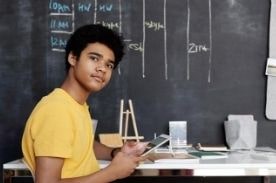 As many traditional high schools struggle with how to best handle the start of a new academic year in the middle of a pandemic, parents and students are considering alternative education options like homeschooling or online school. While researching all your available options, you may be wondering: is homeschool the same as online school? Here's what you should know about the similarities and differences to help you decide what your best option is for this school year.
How is homeschooling like online school?
Homeschooling and online school share many similarities, the biggest being that they offer parents and students the option to learn at home. Both follow a standard curriculum, from English classes to science and history. The best thing about both options is that it allows your student to continue learning from the safety of home – without worrying about the risks that come with in-person education right now.
What's the difference between homeschool and online school?
While there are many similarities between homeschooling and online school, there's a big difference in how the information is presented. With homeschooling, parents often become the teachers, following their school district's guidelines. Parents will create a lesson plan, give exams, and grade homework and assignments.
Online school, on the other hand, allows parents to take a more hands-off approach to learning. Classes and assignments are set up for the student, allowing them to independently study at a pace that works for them, depending on the school they're enrolled in. For schools like Penn Foster, students can learn whenever works best for them. For some other online options, students have to logon for scheduled instruction. Teachers and support are available for help through email and phone, saving parents from having to relearn high school information in order to help their child.
What's the best option for your student?
Deciding which option will work best for your student's needs this fall isn't easy. But as you're researching different schools and programs, consider these questions.
Do you have time to be your student's teacher?
Do you want to figure out how set up a curriculum that follows school district guidelines?
Is your student able to work independently?
Homeschooling often works best for those families who have at least one parent who is able to be the teacher, spending most of their time covering the material with their student. Online school on the other hand, is a great fit for a busy family, allowing the student to work on their classes and assignments independently. The self-paced aspect of an online school like Penn Foster also lets students determine how much they need to study per day to meet their graduation goal, rather than having to follow a strict Monday through Friday class schedule.
Learn more about online high school with Penn Foster
As the new school year approaches, you may still have questions about what the right plan is for your student and your family. With no set enrollment deadlines and an online, self-paced curriculum, Penn Foster High School could be the perfect fit. Reach out to our dedicated Admissions team at 1-888-427-6500 to find out more about how the program works, what you need to do to get started, and more.