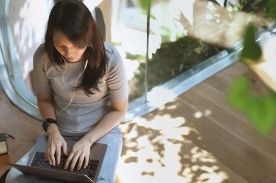 As states across the nation moved to slowly reopen amidst the COVID-19 pandemic, July saw 1.8 million new jobs added, which was even higher than the expected 1.5 million economists predicted. While unemployment rates have dropped since March, there are still a number of displaced workers searching for new - and stable - opportunities. If you're one of them or are in the position of considering a career change in a pandemic, here are seven currently in-demand jobs that can pay well.
Medical billers and coders
Medical billers and coders ensure the proper processing of medical treatment and services, as well as accurate billing for patients and insurance providers. Those in the field should have a strong knowledge of different billing codes, insurances, and how discounts are applied for particular groups of patients.
As this is an administrative healthcare role, professionals in the field can find work in doctor's offices, hospitals, clinics, or insurance companies. They may also be able to find remote work opportunities in the field, allowing them to work effectively from the safety of their home.
The average, entry-level pay for medical billers and coders is $16.26 per hour, or $31,219 per year, according to Payscale. Because of the level of knowledge required to effectively perform the necessary tasks, employers prefer to hire those who have industry certification and training through a career program like Penn Foster's Medical Billing and Coding Career Diploma.
Healthcare administrators
Healthcare administrators provide direction regarding the operation of hospitals, healthcare systems, and clinics. As an administrative leader in healthcare, administrators manage records, financials, and business needs for their workplace and ensure the overall financial health of the hospital or clinic.
The average salary for healthcare administrators is $68,680 per year, or $22 per hour. To qualify for this position, applicants should have either an associate's or bachelor's degree in healthcare administration.
Home health aides
Home health aides perform a vital service to those who are elderly, navigating a chronic illness, or are disabled. As COVID-19 has prevented many patients from seeking in-person healthcare at a doctor's office or care home, skilled and caring aides are in-demand.
Typically, home health aides perform a variety of tasks for their patients, including
Basic care needs, such as ensuring medication is taken, changing linens, and cleaning their living space.
Keeping records of a patient's health and progress, checking temperature, pulse, and respiration and reporting to the physician any changes that may be alarming.
Directing patients in daily prescribed exercises.
Engaging with the patient through conversation and more to ensure mental health needs are met.
The average, entry level salary for home health aides is $11.07 per hour, or $23,210 per year, according to PayScale. Although no formal education is required to work in the field, employers do often prefer to hire those who have the experience, some education, and training, or certification. This training can be completed in as little as six months with an online, self-paced course like Penn Foster's Home Health Aide Career Diploma.
Physical therapy aides
Physical therapy aides work closely with patients, physical therapy assistants, and therapists to provide a welcoming and efficient client experience. Therapy aides are responsible for setting up therapy equipment, assisting patients to the therapy room, and more.
Physical therapy aides earn an average salary of $33,238 per year or $12.08 per hour. Physical Therapy Aide training can be completed in as little as a few months with a self-paced, online program like the one offered by Penn Foster.
Truck drivers and diesel mechanics
Truck drivers - and the mechanics who maintain and repair their vehicle - are more essential than ever as people have come to rely on online purchases during the pandemic. Online shopping has increased at least 10-30%, and those purchases need to be delivered. Additionally, drivers who transport goods to essential businesses such as grocery stores are vital to keeping much-needed supplies in stock.
Drivers earn an average hourly pay of $18.21 or a yearly salary of $57,616. Employers prefer applicants that have experience or CDL training.
Diesel mechanics ensure that drivers' trucks are operating properly and maintain and repair them as needed. Mechanics will often be responsible for tasks such as
Diagnosing and repairing issues
Rebuilding engines and other vital parts
Using computer programs to diagnose and repair diesel vehicles
Typically, diesel mechanics earn an average hourly salary of $20.69 or $48,658 per year. Many employers prefer to hire mechanics who have received formal training and who possess or can earn ASE certification. Prepare for training and sitting for ASE exams with Penn Foster's online Diesel Mechanic training program.
Graphic designers
As more retail stores and businesses move commerce online for the safety of staff and patrons, graphic designers are essential to building a visually pleasing e-commerce experience. Designers, whether on staff at a marketing agency or working freelance, take a client's vision and make it a reality, clearly creating a brand identity that is recognizable to consumers. Typically, graphic designers are responsible for
Creating and assembling images and graphics to produce designs for websites, print media, product design, displays and productions
Direct marketing design projects, collaborating with multiple departments
Designing and developing product brand identity
On average, graphic designers earn a yearly salary of $52,110 or $25.05 per hour. Employers generally look for candidates who have formal education through a degree program or career training program. Having a developed and detailed portfolio of work can be necessary for attracting clients for those who freelance.
Information technology specialists
Information technology - or IT - specialists are needed in every industry and company that uses computers, internet, and networking to complete daily work and meet business needs. IT specialists are responsible for overseeing and maintaining IT systems. They may specialize in areas such as network analysis, system administration, or cybersecurity.
The average yearly salary for an IT specialist is $52,386, or $17 per hour. Depending on the area of IT, workers typically need some industry certification, an associate's degree, or a bachelor's degree. Earn a degree online with Penn Foster's Computer Information Systems Associate Degree.
Find your new career today with Penn Foster
Prepare for an in-demand career today in as little as a few months and join the over half a million Penn Foster graduates who've found careers they love.