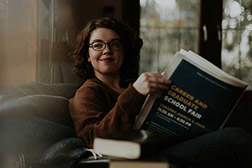 A new year can bring about a lot of change, especially during the global pandemic. Thanks to Covid-19, the workforce has changed significantly, with an increase of job losses starting in March and April of this year. Thankfully, though, economists are predicting the economy will return to its pre-pandemic levels by the end of 2021. Along with this brighter outlook, certain jobs will be in higher demand than before. Here's a look at some of the most in-demand fields, and careers, for the new year.
Healthcare
If you're looking for a fulfilling, rewarding career helping others, you might want to consider a career in healthcare. While healthcare jobs will always be in demand, the pandemic has caused more long-term health issues, so there's likely to be an even greater need for healthcare professionals. Some careers that are in-demand include:
Pharmacy technician. Working closely under a pharmacist's supervision, pharmacy technicians measure and mix, as well as label, medications. In addition to a keen eye and math skills, they also need to have good communication skills because they often interact with customers, answering questions and helping with paperwork. Penn Foster's Pharmacy Technician Career Diploma courses cover classes like medical terminology, patient records, and office duties, helping to prepare you for the Pharmacy Technician Certification Exam (PTCE) and the Exam for the Certification of Pharmacy Technicians (ExCPT).
Medical assistant. Needed in a variety of healthcare settings, medical assistants can be found in clinics, doctor's offices, hospitals, and nursing homes. Acting as both a healthcare professional and an office administrator, medical assistants need to understand medical terminology, diagnostics, and pharmacology in addition to medical records, health insurance, and office procedures. Penn Foster offers two paths for those looking to pursue a job as a medical assistant: a Medical Assistant Associate Degree and a Medical Assistant Career Diploma. Though the curriculum for each course is similar, the associate degree track offers a more in-depth coverage with additional coursework. Whichever track you successfully complete, you'll have the essential tools needed to prepare for industry certifications that can give you an advantage in a competitive job market.
Skilled trades
For those who like a hands-on job, the demand for skilled trades is growing. Needed for new home construction, home renovations, and large construction contracting jobs, those in the skilled trades need both education and certification, which can vary from state to state. If you're looking to put your talent and skills to good use, there are some specific trades that are expected to see an upswing in 2021:
HVAC/R. Every building needs to be heated and cooled, whether it's a residence or commercial building, and the units need to be maintained. Since this applies to a variety of industries, a career as an HVAC technician can be lucrative, with the average salary in 2019 being $48,730. In addition to a high school diploma, you'll need job specific training, like Penn Foster's HVACR Technician Career Diploma. Courses in refrigeration and electrical systems and HVAC installation will put you on the path towards success. Upon completing the program, you'll receive an EPA Certification Prep manual, exam registration, and certification test voucher to prepare you for further state licensing and certification exams.
Electrician. Like HVAC/R technicians, electricians are needed for both residential and commercial jobs, with every state having different requirements for licensing. The demand for electricians is growing, too, with the field expecting to grow at the higher than average rate of eight percent between now and 2029. With Penn Foster's Residential Electrician Career Diploma Course, virtual simulations will help you complete classes in smart home technology, electrical components, and conduits. All of these courses comply with the most up-to-date version of the National Electrical Code (NEC).
Veterinary medicine
If you love animals, helping our furry friends might be a rewarding career for you. Veterinary sciences offer a few different tracks, with each expecting a 16 percent growth in the next decade.
Veterinary assistant. Though veterinary assistants don't need to attend a National Association of Veterinary Technicians in America (NAVTA) associated school, doing so can make you more appealing to potential employers. One of only three NAVTA approved online programs, the Veterinary Assistant Career Diploma from Penn Foster can help you prepare for real-world job experience with a hands-on job externship in addition to courses teaching you to administer medications, sterile instruments, and provide first aid.
Veterinary technician. For those looking to take their studies a step further, a Veterinary Technician Associate Degree provides further job opportunities, allowing you pursue opportunities at zoos, wildlife facilities, humane societies and traditional veterinary practices. Upon successfully completing this American Veterinary Medical Association accredited program, you'll be headed towards earning your associate degree as well as eligibility to earn your credentials as a licensed veterinary technician through the Veterinary Technician National Examination (VTNE).
You have options with Penn Foster
Regardless of which field or specialty you'd like to enter, you'll need a high school diploma to start. Penn Foster's High School Diploma program is geared for all types of learners, whether you're an adult who needs to earn their degree for better job opportunities or you're a traditional student who doesn't feel like a regular public school works for you. You'll complete general education credits in traditional courses like Math and English, as well as five elective credits. If you want to jumpstart your career, you can choose career-specific elective courses by entering the Career Pathways track. Most importantly, the diploma you earn is both regionally and nationally accredited through the Commission on Secondary Schools of the Middle States Association of Colleges and Schools and the Distance Education Accrediting Commission, respectively.
Kick Off 2021 with Penn Foster
Penn Foster offers affordable, self-paced, education. Classes are all online and can be studied not just where you want, but when you want with a self-paced curriculum. This means you can complete your classes at the same time, studying a bit of each at once, or mastering one class at a time before moving to the next. You can also study at any time of day you choose, leaving room to focus on what's important, like your job and family. There are monthly payment plans, discounts, and flexible tuition options so your education can fit into your budget, too.
If you're ready for Penn Foster to help you kick off 2021 the right way, enroll online or call an Admission Specialist at 1-888-427-6500 to learn more.