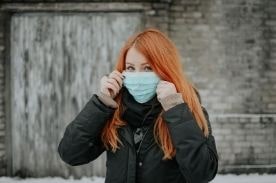 Sending your child back to school during a pandemic isn't exactly ideal. In 2020, we are all facing new challenges and making our best possible choices off-the-cuff as we learn new things about the coronavirus. With hard-to-believe obstacles to consider, like your child wearing a mask all day, having a modified, pieced-together curriculum, going to school during unusual hours, a lack of faculty and staff, and of course, the concern of your child contracting the virus and bringing it home to your family and community, things we once took for granted now seem much less cut-and-dry.
The good news is, we have reliable options that can help you establish a plan for your child's future without all the guesswork and uncertainty.
Founded in 1890 and online since 2006, Penn Foster knows distance learning.
Penn Foster, once called ICS Correspondence School, was the trailblazer of distance learning. Established in 1890, our schooling was conducted through the mail to give everyone access to education regardless of where and when they learn.
In 1957, our career-focused academics recognized a need for more flexible high school options for adults that were held back in their careers and for children seeking flexible learning. High school students in sports careers, entertainment, or from military families that travel don't often get the perk of a home base, but we created an option for students to have consistent, stable learning wherever life takes them. Today, our experience in distance learning gives us wisdom over many schools that are making changes, for good or for bad, as they go.
Our online learning model was established in 2006 and to celebrate, we renamed our school Penn Foster in honor of our founder, Thomas Foster. Today, with nearly 15 years of practice in what it means to instruct high school students online, we are a trusted choice for tens of thousands of Penn Foster High School graduates each year.
You don't need to step into the teacher role to help your online student.
Not all children can attend a traditional brick-and-mortar school and not all parents are able to help their online high school student succeed. It sounds like quite the pickle when those two situations align, but we have a solution to this problem. Our high school student experience does not require a parent to step into the role of the teacher. It's designed with an online Student Portal that contains your child's full curriculum equipped with learning materials, study guides, interactive exercises, webinars, and more while including the ability for your child to reach out to their instructors via chat, email, and phone when they need guidance along the way.
Unlike a traditional school that jumps around through different classes and themes, your child has the option to master one subject at a time before moving to the next topic. There are no class times and no exam deadlines. Your child can log in whenever, wherever, access all study materials all in one place, and even learn on the go with mobile-friendly options.
Choose a curriculum that's best for your child instead of the class.
It isn't an understatement that Penn Foster is flexible. Maybe you're interested in your child attending online school, but only until better systems are in place locally. Perhaps you'd like your child to graduate from high school online as soon as possible so they can get a leg up on college early. Students can transfer their previous high school credits and take individual high school classes wherever they like, year round, with no closed periods of enrollment. Your child can begin learning within minutes of the enrollment process.
Penn Foster High School Pathway Programs allow you to choose a curriculum that can jumpstart your child's future career path. With ten different pathways to choose from from healthcare to skilled trades, your child can finish high school with additional courses under their belt; earning a diploma as well as a career certificate at graduation with no increase in tuition.
Learn more by speaking to a specialist and hearing from graduates.
Watch the remarkable journeys of two examples of different Penn Foster High School graduates in these videos: America's Got Talent superstar, Quitavius Johnson, as well as our 2019 Penn Foster & DEAC Graduate of the Year, Victoria Winters, who was hospital bound through her teen years.
We are proud that our school has survived through two world wars, the Great Depression, the Great Recession, and will continue to thrive today as an online school to ensure people like you can continue to overcome challenges through affordable, flexible education.
Call us at 1-800-275-4410 and we can answer your questions, help you understand the length and requirements of our high school programs, discuss our low tuition prices with 0% interest, low monthly payments, and more.