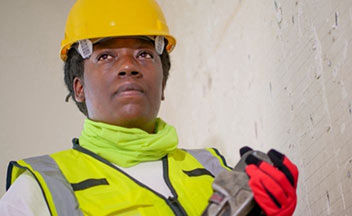 If you're ready to start a new career in 2022 and are looking for something that allows you to use your problem-solving skills and work with your hands, a job in skilled trades could be the perfect fit for you! There are plenty of opportunities to start a rewarding career in the skilled trades, so deciding which one to pursue may be a bit stressful. Check out this guide to the in-demand skilled trades jobs for 2022 to get started!
What skilled trades jobs are in demand?
Skilled trades jobs are projected to grow 6% over the next decade. From careers in construction to manufacturing, growth in available jobs means that there will be several opportunities for those looking to start a new, rewarding career in 2022. Some top, in-demand skilled trades careers include
Residential electrician. If you want to start a rewarding career that gives you plenty of opportunities to use your troubleshooting and problem-solving skills, becoming an electrician could be the perfect career path for you! It's also a great time to start training for the job, with over 700,000 new jobs in the field expected in the next decade. In order to become a residential electrician, you'll need on-the-job training and knowledge of the fundamental skills needed to perform the job. Many states also require you to be licensed to work as an electrician. Through our flexible, online Residential Electrician Career Diploma, you'll build the skills to become an electrician on your schedule in as little as 11-15 months!
Plumber. Plumbers play an important role in construction and home maintenance. If you're interested in becoming a plumber or starting your own plumbing business, now's a great time to take the first steps! With an average salary of $56,330 per year, plumbing is a rewarding industry that also allows you to work with your hands, solve problems, and use your troubleshooting skills. Most states require plumbers to be licensed, which means that earning a diploma from a program like Penn Foster's online Plumber Training can help you stand out to employers. And, with interactive videos, how-to demonstrations, and animations, you can apply what you learn to real-world situations to ensure you're ready for the field when you graduate. You can complete this program is as little as 8-12 months.
HVACR technician. HVAC technicians work on heating, ventilation, cooling, and refrigeration systems that control the temperature and air quality in buildings. They also install, repair, and maintain HVAC systems for both residential and commercial buildings. This career is a great fit for someone who enjoys mechanical problems, working with their hands, and working on a variety of projects. In order to become an HVAC technician, you'll need to have some education in the field and have the required EPA certifications to work in the field. Through the online HVACR Technician Program from Penn Foster, you'll build fundamental skills needed for success on the job while also preparing EPA certification so you can take the first steps toward the job you want after graduation. You can complete this program in as little as 7-11 months.
Read more:
Your Guide to a Midlife Career Change
How to decide which skilled trades job is right for you
With several options to pursue in the skilled trades, it might be hard to narrow down which career path is the right one for you. To help you decide, ask yourself these questions.
Do you want to work in a variety of settings? In many skilled trades roles, you may be required to see clients at their homes and businesses. You'll work in a variety of settings, sometimes outdoors in inclement weather, depending on your job. If you're someone who wants to stay in one workplace, such as doing maintenance for a business or school, becoming a plumber or electrician may be your best bet.
Do you want to be your own boss? Not all skilled trades allow you to start your own business. However, if you want to be your own boss, working as a plumber can help you do that! Plumbers often have their own small businesses, working with customers in their homes to fix issues that arise.
Are you interested in working on more mechanical projects? Not every skilled trades job is focused on mechanical applications and repairs. However, if you're more interested in work like that, becoming an HVAC technician might be the right fit for you! You'll work with HVAC systems, their mechanics, and troubleshoot machines.
Start your new career with Penn Foster in 2022
If you like working with your hands, have strong problem-solving skills, and excellent mechanical skills, a job in skilled trades could be your dream career. With Penn Foster's online trades training programs, you can prepare for an in-demand career on your schedule. To learn more or get started, reach out to our expert admissions team at 1-888-427-6500!