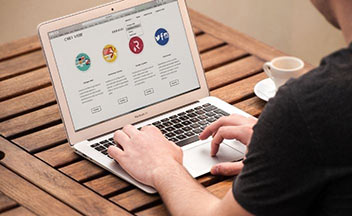 As we prepare for a new year, you may be adding "start a new career" to your list of resolutions for 2022. But what job is right for you? With several opportunities in technology, business, and the creative industries, it's a perfect time to start a rewarding career path. To help you get started, check out these in-demand jobs for 2022!
What technology jobs are in demand?
As we continue to rely more and more on technology in life and work, the need for those skilled in the field is only expected to grow, with the Bureau of Labor Statistics predicting 13% growth in jobs in all technology fields over the next decade. Whether you're interested in design, coding, or support, there will be job opportunities in several industries, from small businesses to large corporations.
One in-demand IT job that can help you start a career in the industry is IT support specialist.
IT support specialists work in several industries including business, manufacturing, education, and even for local, state, and federal governments. They provide essential support, help, and advice to users, employees, and managers that use company tech for their day-to-day work. If you're detail-oriented, tech-minded, and love solving problems, becoming an IT support specialist could be the perfect career path for you. Even better, the Bureau of Labor Statistics predicts a 9% increase in jobs in the industry over the next decade, so there's no better time than now to get your foot in the door. Through Penn Foster's online IT Support Specialist Training, you can build the foundational skills that can help you prepare for a successful IT career, from home and on your schedule. You can complete this program in as little as 7-11 months.
What business jobs are in-demand?
If you're someone who is interested in pursuing a business career path, there are also several jobs that are expected to be in-demand over the next decade. These include careers in
Marketing. If you want a career that allows you to use your creativity along with your business savvy, a job in marketing can be just the thing for you. Currently, there are also many opportunities for marketers in the workforce. The number of available marketing jobs grew by 63% in just the first half of 2021, many of them offering the option to work from home. Top roles in marketing that can be rewarding include social media manager, digital marketer, marketing researcher, or marketing analyst. To qualify for a job in marketing, you'll usually need a relevant degree and strong communication skills.
Human resources. If working with people is your career endgame, human resources could be the perfect field for you. HR coordinators and managers are needed more than ever as we all navigate a new world of work, balancing work from home and in-office schedules. Working in HR also gives you options when it comes to where you work; HR professionals are needed in every type of industry! In order to qualify for an entry-level HR career, you'll generally need a degree, usually in human resources management.
Read more:
How to Become an Administrative Assistant (Career Guide)
What creative jobs are in-demand?
If you're interested in a career that allows you to use your creativity and design skills, a job in a creative field could be the perfect fit for you. Some creative jobs that are in demand include:
Graphic designer. Graphic designers play a huge role in marketing departments, creating a variety of images, videos, and other content to use in ads, on social media, and in print materials. The Bureau of Labor Statistics predicts that there will be 7,300 new graphic design jobs added over the next decade, so now is a great time to take the first steps toward this creative career. You can prepare to become a graphic designer online through Penn Foster's flexible Graphic Design Associate Degree.
Event planner. As we've eased out of pandemic safety procedures and have found our back to some semblance of normal, people are planning large parties, weddings, and more that they couldn't have in 2020. If you're creative and organized, becoming an event planner could be the perfect job for you. And with the Bureau of Labor Statistics predicting the need for event planners will increase by 18% over the coming decade, there will be plenty of opportunities to find event planning roles. Learn how to become an event planner in as little as 5-9 months with Penn Foster's Event Planning Career Diploma.
How do you know if a career is in-demand
If you're interested in starting a new career, you probably want one that offers a lot of opportunities to find jobs in the field. After all, getting a good, rewarding job is the whole point. The best way to figure out whether or not a field you're interested in will give you want you want is to start doing some research. Things to consider include
How many open jobs are there in the field? Using a resource like the Bureau of Labor Statistics, you can find out how many open jobs are predicted for the industry you're interested in over the next ten years.
Is the job you're interested in part of a growing industry? There are many industries that are currently booming, offering plenty of opportunities for someone looking to get their foot in the door and start a new career path. Certain industries are expected to grow faster than others, like technology or healthcare, so finding a job in one of those fields may be less competitive than in others.
What's the average entry-level salary? Again, use a resource like the Bureau of Labor Statistics to find out the average salary for jobs you're interested in. They use data to determine what a median salary is for a variety of jobs in the United States, including what types of employers may pay more than others.
How many job posts are there? Another easy way to figure out if a career is in demand? Do a quick search on sites like Indeed, LinkedIn, or Glassdoor to see how many job posts there are for that position in your area. This can give you a good idea of how many opportunities are available near you, as well as help you get a sense of what employers in the industry commonly look for in new hires.
Prepare for an in-demand job with Penn Foster
Whether computers are your thing, you're more interested in numbers, or you want to use your creativity in your career, Penn Foster's online, flexible programs allow you to prepare for the career you want on your schedule. To learn more about our programs or get started working toward a new career today, reach out to our Admissions Specialists at 1-888-427-6500!