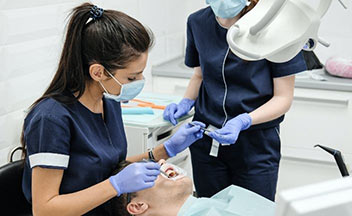 The beginning of a new year is a time for change, so it's a great time to take the first steps toward reaching new goals, including starting a new career. If you're considering making a big change in your career but aren't sure what job is right for you, check out these healthcare careers that will be in demand in 2022!
What healthcare jobs are in demand?
Even before the COVID-19 pandemic, healthcare jobs were in demand. Now, the need for skilled healthcare workers is higher than ever and only expected to keep growing. Overall, jobs in healthcare are projected to grow about 16% over the next decade, adding 2.6 million new positions in the field. In fact, there are many in-demand healthcare jobs that you can train for in less than a year. Some jobs that may be right for you include
Read more:
Your Guide to a Midlife Career Change
How to decide which healthcare career is right for you
While there are plenty of healthcare jobs that are in demand right now, not every one may be the right fit for you. If you're not sure which healthcare career path to pursue, ask yourself these questions.
Do you want to work directly with patients? Not everyone is a people person and working with people in healthcare can sometimes be stressful. If you're someone who doesn't want to work directly with patients, administrative roles or behind the scenes roles could be your best bet. Working as a sterile processing technician, for example, allows you to make a difference without having to work with patients.
Are you interested in more clinical or administrative work? Do you prefer paperwork over administering vaccines and taking vitals? Or do you want to be heavily involved in clinical work? Jobs like medical assistant or dental assistant will have you working directly with patients in a clinical capacity, while becoming a pharmacy technician may involve more customer service and administrative work.
Do you want to pursue certification? Many healthcare jobs require certification to qualify for them. However, there are also many that don't! Adding certifications to your resume is always a good idea, even if they're not required, but if you don't want to sit for long exams, your best bet is to pursue a career in which you don't need to. Pharmacy technicians don't often need to be certified to work in the role, so that may be a great option for you.
Read more: How to Protect Yourself from a Recession
Start your healthcare career with Penn Foster
Penn Foster's online healthcare training programs can help you take the next steps toward an in-demand career in the new year. Whether you want to work with patients or behind the scenes, our flexible, online courses can help you prepare for career success. To learn more or enroll, reach out to our expert admissions team at 1-888-427-6500!