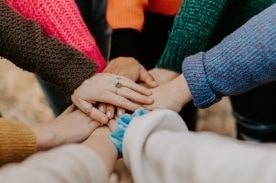 When enrolling in an online school like Penn Foster, many students are worried about missing out on a "traditional" school experience. Though there's no campus or in-person classes, Penn Foster provides students, alumni, and parents with an online Student Community so you're never your own. The virtual platform allows you to socialize and connect with your peers no matter where you're located.
What is the Penn Foster Student Community?
Just because you're studying on your own doesn't mean you have to be alone on your educational journey. Having a strong support system throughout your studies can be an important part of achieving success. The ability to discuss courses with other students, form study groups, or just have a group of people who understand you can make a significant difference in how you approach your studies. Unfortunately for some, though, this isn't always available in their personal lives, so Penn Foster's online Student Community can provide this essential support. It offers a safe space where you can get assistance with your program, engage with other students, and communicate with your peers 24 hours a day, seven days a week. Just like our online classes, you can access it at your convenience, from home, on the road, or wherever life takes you. Though signing up isn't mandatory, Penn Foster makes it easy for any student who might be interested in joining. All you have to do is go to the community, and sign up with your student number.
What are the benefits of the Student Community?
Community Manager Shawn Bryant points out that the Community provides a gateway to turn to when you're feeling stressed or need a break from your studies.
"I think this is extremely important in an online school simply because students miss the whole brick-and-mortar, going to classes, being able to speak to friends before classes start, things of that nature," he said. "It helps them identify what the norm would be. It's not mandatory, but a lot who come across the community are elated to have found a spot within the community." There are various groups to join, ranging from academic, to career-focused, and even entertainment, so you can jump in at any time and start a conversation about anything that interests you."
Overseeing the Community to ensure everyone follows the appropriate rules and guidelines, Bryant also helps students keep conversations going, and offer his support. "I'm here to give assistance when needed. I'm also here anytime our students have down time, up moments, to give them a pat on the back and let them know they can achieve their dreams or overcome obstacles. Everyone has a story and they're trying to go back to rewrite that story, and I just like to be there to help them."
Join the Community with Penn Foster
If you're ready for an accredited and affordable online school experience where you have support at the tip of your finger, call an Admissions Specialist at 1-888-427-6500. Or, enroll online today and head straight over to find your place in the Student Community!