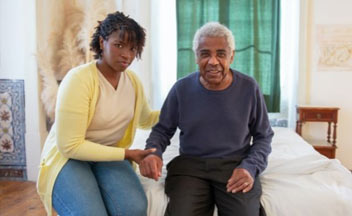 Being a personal caregiver can be a difficult job, whether you're taking care of an ill or elderly friend or family member, or you're pursuing a career in the field. It's also a rewarding one! If you're interested in making a difference in someone's life and ensuring that they are well-taken care of, here's what you need to know about taking the first steps toward becoming an in-home caregiver.
What is a personal caregiver?

A personal caregiver is someone who looks after the personal, emotional, and medical well-being of a family member, friend, or client in a home setting. Depending on the needs of the person in your care, you'll be expected to do regular tasks including grocery shopping, taking the patient to appointments, ensuring they take their necessary medications, helping them with activities of daily living (ADLs), and more. Whether working for a home health agency or simply volunteering to care for an elderly or disabled family member, there are some skills that you should be familiar with to be a successful and effective caregiver to your patients.
What qualifications do you need to become an in-home caregiver?
In order to become an in-home caregiver, you may need to have certain qualifications before you can start doing the job. The qualifications you need can vary based on whether or not you're pursuing a paying job in the field or hoping to provide care for a family member.
For those who want to provide care for a family member or on a volunteer basis, education and training aren't often a requirement. In general, an effective caregiver should be over 18 years old, able to lift at least 50 pounds, be flexible and patient, and have the best interest of their patients in mind. While education may not be a requirement for helping a family member at home, it can, however, be extremely helpful to ensure that you can provide the best level of care for your loved one. Learning the basics of maintaining a safe, healthy environment and how to respond in case of emergencies can make the role of in-home caregiver a much less stressful one.
For those who do want a paying job as a personal caregiver, you'll need to complete some form of further education or training, and, depending on the state you live in and the agency you work for, may also need to become certified. To work in the field, you should have the same basic qualifications as someone who is a voluntary caregiver, along with a few more advanced skills. To be successful in the role, you should be adaptable, have a strong understanding of standard practices to assist patients with activities of daily living, and be a caring, compassionate advocate for patients. While education and training aren't necessarily a requirement to gaining an entry-level job as a caregiver, learning these skills before applying to jobs can improve your confidence and help you stand out from other applicants.
Do personal caregivers need to be certified?

In most cases, certification isn't necessary to become an entry-level personal caregiver, though your state may require you to register or have certain clearances on file before you can begin working. Caregivers who provide assistance with ADLs, housekeeping, and non-medical tasks don't need certification. However, your employer may require you to be certified, so it's important to check the job requirements before submitting your resume for an open caregiver position. Many nursing homes, extended care facilities, and facilities that accept Medicare require staff to have certification.

To become certified, you'll need to have completed a training program that covers the specialized skills and knowledge you'll need for the job including
Safety
Nutrition
Basic medical care
Maintaining proper records
And how to respond to emergency medical situations
An in-depth training program should cover all of these skills to make sure you're prepared for the work ahead of you and for certification exams.
Become a skilled caregiver with Penn Foster

If you want to help others, you can take the first steps toward a rewarding, in-demand career as an in-home caregiver with Penn Foster's online Personal Caregiver Certificate Program. Through flexible, online classes, you'll build the foundational skills that can help you be successful in caring for a wide variety of patients and clients around your schedule. To get started or learn more about the program, reach out to our expert Admissions Specialists today at 1-888-427-6500!