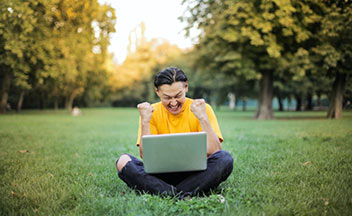 Graduation season is in full swing, which means it's a great time to celebrate all you've achieved over the last few months and years. Check out how you can show off all your accomplishments to the entire Penn Foster Community and social media.
What is the Penn Foster Community?
If you're not already familiar with the Penn Foster Community, you might be wondering what exactly it is. The Community is a platform where students and alumni can interact with one another, serving as a great resource to help you along your academic and career journey.
It's where you can make connections with your peers when you're feeling stressed or just need a little time out from studying. Just like Penn Foster's academic programs, the Community is entirely online. Because there are no in-person classes where students can meet, the Community ensures students can stay engaged and maintain the social aspect of education. And, with interest-specific groups and forums like careers, education, and more, there is something for almost anyone and every taste.
How to show off your accomplishments in the Penn Foster Community
When you enroll with Penn Foster, you'll be assigned a student ID. Once you receive an email with that number, you can sign up for the Community - all you have to do is wait about a day to be approved!
You can start a new discussion or add on to existing ones. An active forum to share stories, students within the Community love to help others out, offering support as well as tips and tricks to help you through your program.
Likewise, it's just as rewarding to hear about others achieving great things! These accomplishments can include benchmarks like graduating from your program, finding a job, acing a test, or even getting a new pet or getting engaged! The responses you'll receive can help boost your confidence, making your feelings of pride or happiness even more meaningful.
And it's not just about you, either. Sharing your stories and achievements can offer encouragement to other students as well. Those struggling may find something in your story to which they can relate. When they see you've reached a milestone or accomplished a goal, they may feel like it's possible for them, too, inspiring them to persevere.
Other ways to share your accomplishments
If you're ready to share within the Student Community, there are a few ways to do it! First, you'll need to make a post with a subject letting people know what you're proud of. Then, you can share in written form or by posting photos (or even both!).
Another option to feature your accomplishments is by signing up to be featured in our Alumni Spotlight series. On the Spotlight series, you can choose to be interviewed for a written blog or sign up for a podcast that will be featured on our Soundcloud and YouTube channels. Through this format, you will have the ability to share your story in your own words with current and future students in an interview. You will answer a few questions on the sign-up sheet and will be contacted after submission to arrange an interview date. If you choose the option of being featured on a blog, a list of additional questions will be sent to you via email to answer. Or, if you choose a podcast, a date and time will be arranged to meet over Skype or another video conferencing service to conduct your recorded interview.
If you're not fully comfortable with being interviewed or sharing an in-depth story but still want to share how Penn Foster has helped you reach your goals, you can also submit a testimonial using the Student Spotlight form, linked in the last paragraph. A testimonial is a brief description of your experience – why you chose Penn Foster and what Penn Foster and your studies have meant to you. These testimonials will be featured throughout our website, emails, and even in blogs, helping to offer guidance and information to anyone considering a Penn Foster education. Just indicate in your submission that you'd prefer to not be contacted for an interview.
In addition to posting within the Student Community and featuring in our Student Spotlight, you can interact with an even wider Penn Foster audience through our social media on Instagram and Twitter. For instance, if you've recently graduated, snap a pic of yourself with your diploma and don't forget to tag us using #pennfoster and #pfproud. Not yet graduated? Don't worry! You can post, too. Tag us in photos with those cute new pets, at points of progress throughout your course, or anything that makes you proud to be part of Penn Foster.