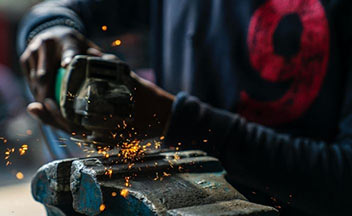 If you're interested in a job that allows you to work with your hands, use your creative and mechanical skills, and be your own boss, becoming a professional gunsmith can be the first step toward starting a rewarding career. Here are five reasons to become a gunsmith and how you can get started in the industry!
Why become a gunsmith?
Gunsmithing is a craft that has long been part of American history. Combining creativity and technology, gunsmiths have long worked to build effective, safe guns that display expert craftsmanship. They also have the skills required to perform essential maintenance and repair tasks that ensure iconic firearms, everyday firearms, and everything in between are kept in working order. Besides providing a vital service to the millions of gun owners in the country, there are a variety of reasons it makes sense to become a gunsmith such as
A variety of career opportunities.
Job security.
Learning essential skills.
Becoming certified in something you're passionate about.
Learning essential safety skills.
1. Gunsmiths have lots of employment opportunities
As a skilled gunsmith, you'll have a variety of employment options to choose from. Gunsmiths can work in retail settings, like gun shops or sporting goods stores. These positions are often best for those who have strong customer service skills, as well as a passion for talking about a variety of firearms.
For those who want to be their own boss, gunsmithing can also offer the opportunity to start your own business in the field. To be a successful retail or repair shop owner, you'll need to be a skilled gunsmith who has strong communication and business skills.
Gunsmith jobs aren't just found in retail settings, though! As a gunsmith, you can also work in factories, for the police, and for the government. In these types of positions, you'll usually be responsible for building, repairing, and maintaining firearms for your employers.
It's important to keep in mind that, no matter where you work, you'll probably have to pass a background check and have proof you have the skills needed for the job since gunsmithing is a specialized field.
2. Gunsmiths have job security
With a large number of firearm enthusiasts, hunters, and even professionals who use guns on a regular basis, the need for skilled gunsmiths to help them repair and maintain them should remain strong. With firearms, regular upkeep is necessary, and gunsmiths are vital to keeping owners and others safe by using their knowledge to ensure all parts are in working order, without risk of faulty mechanics. Besides repairing and maintaining firearms, many people also want custom guns which can allow you to use your creativity and metalworking skills in your work.
3. You can develop important gunsmithing skills
Throughout a career as a gunsmith, you'll learn and develop important skills that can help you become a better gunsmith – and that can be transferable to other careers if you ever decide to look for a new job. Gunsmiths need to have math, drawing, mechanical, communication, and business skills. As a gunsmith, you'll also learn specialized skills like welding, working with different types of metal, engraving, and gun safety techniques.
4. You'll earn helpful gunsmithing certifications
Licenses and certifications can strengthen your resume. In order to work as a gunsmith, you will need to obtain your Federal Firearms License (FFL). An FFL is required to sell or manufacture firearms within the United States and there are several types of FFL. Most gunsmiths will require a Type 1 FFL, which is for a dealer in firearms that doesn't work with destructive devices. There are a total of 11 types of FFL which those working with firearms can apply for.
To qualify for an FFL, you'll need to be at least 21 years old, a US citizen or legal resident, and have no prior felonies or convictions. Once you receive your FFL, you'll need to renew it every 3 years.
5. You'll learn gun safety
As a gunsmith, safety is vital. You'll play a major role in ensuring your customers are educated in firearms safety. Through high standards and skilled work, you'll also ensure safety with the pieces you work on. Whether you're repairing a gun, doing custom design work, or just ensuring a firearm is in proper working order, you're helping to prevent potential accidents and misuse.
Become a gunsmith online
If you're interested in turning a hobby or interest in firearms into a career, you may be wondering how you become a gunsmith. One of the first steps toward working in the field is learning the skills you need to do the job! Through an online gunsmith school like Penn Foster, you'll build essential craftsmanship and safety skills necessary to the job on your schedule, from home. Throughout your course, you'll learn about the history of firearms, firearm safety, building and repairing guns, and even how to start your own business. To get more information on starting your gunsmith training, reach out to our Admissions Specialists today at 1-888-427-6500!