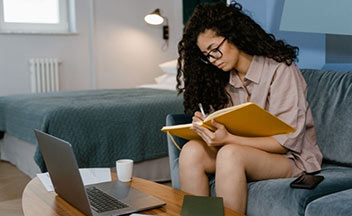 In today's job market, we know that having employer-recognized, career-aligned education and training is one of your top priorities.
Understanding what companies look for lets us help you find a job that not only fits your interests, but that's in-demand, so you're confident putting your time and energy into online education. At Penn Foster, we update existing programs and develop new ones where we can better help you build the skills you need for these jobs. Here's how we approach these changes to make sure our programs help meet your goals!
1. Focusing on career alignment
It can be empowering to go after a job that fits your interests and needs with skills that can stand out on a resume. We aim to help you find a job through career-focused learning. With your Penn Foster program, you'll take classes focused on helping you build the skills and knowledge for whatever industry you choose.
At Penn Foster, we regularly review our programs to better connect to skills that companies are hiring for. We improve our programs when we find an opportunity to make the skills you learn in them more job-friendly.
A recent example of this was revamping our optician program, renamed Optician Exam Prep, in 2021. The goal was to re-focus the program on the industry-recognized certification required by most states and employers. We worked specifically on helping learners prepare to sit for exams that would help them get key skills, gain the credentials they need, and reach their goal of becoming an optician sooner.
We also enhanced the HVACR Technician Career Diploma program to help boost students' hiring potential. The lessons are now more interactive and visually engaging to help learners remember the skills they learned in the program on the job.
Our goal is to help build confidence in your career-focused skills as you earn them to help you stand out from other job applicants.
2. Making skills-based education a priority
To help you picture what you might be doing on the job, we understand you might want your program to include engaging content that takes your learning to the next level. At Penn Foster, we examine course content and see where we can include more interactive exercises, practice assessments that help you apply what you've learned, and bite-sized content that breaks down learning into pieces that build upon each other.
Skills-based education has always been our focus, and since employers are prioritizing that more and more across industries, we're constantly focused on ways we can strengthen our career alignment. With real-world assessments measuring skill mastery, you can feel confident that your courses are relevant to the job you want!
We look at industry trends to determine in-demand skills that could help today's job seekers looking to boost their resume. For example, we recently launched a new Veterinary Team Telehealth Career Certificate for our learners interested in learning the essentials of veterinary telehealth. This program was inspired by the increased demand for telehealth in the past couple years because of the pandemic.
3. Listening to our students
Your feedback is very important to us and incorporated into the updates we make to our programs and the learning experience. We listen to students' feedback via social media, the PF Community, user testing opportunities, surveys, and much more. We are also employer-aligned and career-aligned: we talk to companies that are hiring and major employers who help inform the kinds of skills we teach and the programs we offer. At Penn Foster we also talk to our alumni and love to hear about their "wins" at work resulting from their education.
With all of this feedback in mind, we make any necessary program changes to help you achieve what matters most to you: completing a program that helps you meet your goals, all in a flexible online environment where you're in control of your schedule. Because at the end of the day, your success is our success!
Boost your skills with online training
Whether you're interested in veterinary, healthcare, skilled trades, or other industries, you can acquire the tools to help you find a career through self-paced, flexible, online education.
To learn more about Penn Foster's training programs by industry and how they can help you achieve your goals, contact an Admissions Specialist today at 1-888-427-6500!