Expand Your Skills with Training in Solar PV Systems Installation
Get the training that will help you take advantage of the booming solar installation market. Specifically designed for those already working in the skilled trades, such as Electricians, Roofers, and Carpenters, Penn Foster's Solar Photovoltaic Installation Skills Program will teach you how to install, repair, and maintain solar photovoltaic systems in a matter of months — online and at a pace that's right for you.
Why Add Solar PV Installation Training to Your Skillset?
If you're already working in the skilled trades, then now is a great time to learn how to install solar PV systems. With the cost of solar panels and shingles having fallen significantly, more households and businesses are taking advantage of these systems, resulting in greater demand for installers. In the coming years, employment of solar PV installers is projected to grow 105 percent!¹
Why Choose Penn Foster Career School?

Start and Study When You Want
Learn at home or on the go through our custom-designed, mobile-friendly student portal, available 24/7.

Dedicated Success Coaches
You're guided by Certified Instructors, Success Coaches, Teaching Assistants, and Student Support Staff - all working to help you succeed.

Curriculum for Success
Get the comprehensive skills and knowledge you need to help you learn how to install and maintain solar PV systems.

Set Your Goals and Pace
Customize your study and exam schedule with progress-tracking and goal-setting tools that keep you moving forward.​

Proven Reputation
With 44,000 graduates in 2017 from our regionally and nationally accredited High School and Career School and nationally accredited College, you're in good hands!

Connect with Other Students
Connect in real-time with your peers in your career area in our discussion boards.
A Customized Learning Experience
With mobile-friendly coursework, progress-tracking and goal-setting tools, virtual simulations, informative videos, and personal coaches to help you succeed, the Penn Foster Experience (PFx) is online learning like no other.
Solar PV Installation Skills Course Details
In our Solar PV Installation Skills Certificate online course, you'll cover topics that will help you take advantage of this growing industry. You'll learn about the fundamentals of solar energy, solar panel system sizing and design, PV system layout, and how to test, troubleshoot, and connect PV array.
Tuition
With flexible, affordable payment options, you can get started on your online Solar PV Installation Skills Certificate program today.
There are real people to help, real people who care and support you along the journey, and everything is tailored to who you are so that you can succeed.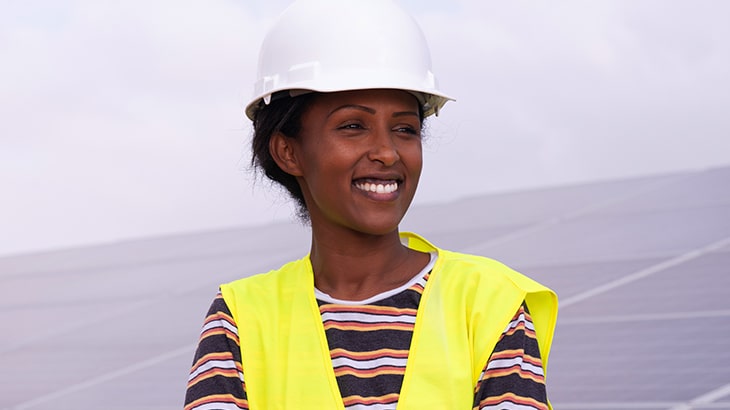 Will Adding Solar Training to My Skillset Help Advance My Career?
If you already have a job in the skilled trades, keeping your skills updated with the latest trends in alternative energy is a must. Right now, the solar energy industry is booming. As the cost of solar power systems continues to become more affordable, more of your clients will look to alternative energy sources to heat and power their homes and businesses. It could also mean more money in your pay check. Electricians with solar energy/solar power skills can earn as much as $3 per hour more than electricians without these skills.²​
Ready To Enroll?
Get started today on your path towards working in a growing industry with Penn Foster Career School's accredited, online program.
Enroll Now
Hundreds of leading employers and workforce organizations partner with Penn Foster to attract, develop, and retain talent for today's in-demand middle skilled occupations.